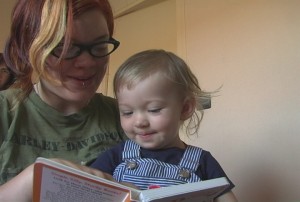 Portland filmmaker Jackie Weissman is excited to announce the Portland preview of her documentary ROCK N ROLL MAMAS next month on Thursday March 7, 2013 on the opening night of The Portland Oregon Women's Film Festival (POWFest).
ROCK N ROLL MAMAS is a 60 minute documentary about three indie rockers who strive to follow their creative dreams and raise their children. Over the course of six years, director, Jackie Weissman, followed Kristin Hersh of Throwing Muses, Zia McCabe of The Dandy Warhols, and Portland hip hop artist, Ms.Su'ad. ROCK N ROLL MAMAS features performances from all of these artists plus original music by Zia McCabe.
The observational style of this film takes the viewer into the daily grind of these women's lives. We watch the women as they tour and perform, go to play dates, juggle childcare, and get to gigs. It is a mixture that isn't the glamorous life we imagine when we think of rock musi­cians, it's the reality.
ROCK N ROLL MAMAS is Weissman's first feature documentary.
"After beginning work on ROCK N ROLL MAMAS in 2003, I am so excited to be showing it publicly at POWFest!" says Weissman.  "I'm especially excited to show it to the crew, subjects, and the Portland community."
*****
ABOUT POW FEST
The goal of POWFest is to shift the world of women in film, one film at a time. Although the festival's contributors include Oscar winners andHollywoodheavy hitters, special attention is also paid to dynamic young filmmakers and outstanding local talent in Portland's burgeoning film industry. To that end, we are dedicated to promoting and creating professional development and networking opportunities for women filmmakers of every level. Beyond filmmaker participation we are also dedicated to bringing toPortland, programming that is thought-provoking and will engage the audience well beyond the theater. POWFest has the opportunity to connect films to local and national organizations that are dedicated to that particular film's subject matter, enhancing the audience's experience of the film and contributing to community building and social activism. www.powfest.com