SHORT FILM BLOWOUT: Stop Talking About Your Short Film & Make It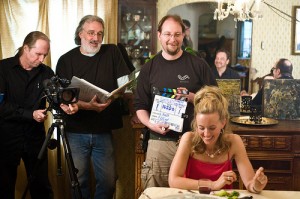 All of the great filmmakers started off making short films, from George Lucas to Gus Van Sant. Short films are a great training ground to learn your craft and to start building your audience. They're also great "calling cards" to show people to get funding for bigger films. Make a good short film, and the film festival world will open up for you. So what are you waiting for?
The Northwest Film Center's School of Film is hosting a SHORT FILM BLOWOUT taught by "Angry Filmmaker" Kelley Baker! Craft your skills at the Center during a series of one-day workshops (Sound, Distribution, Producing, Production) that culminates in a six-day production intensive. They will occur between May 12 – June 13. For more info, head here (http://bit.ly/ef40CY) and look through Spring 2011. Questions? Contact Pam Minty at 503-221-1156.
Remember: you have until August 1 to make and enter your own short film in this year's Northwest Filmmakers' Festival (November 11-19, 2011). Special Tuition Offer: Register for any three one-day sessions plus the six-day Production Intensive and get the fourth one-day session FREE (a $55 savings).