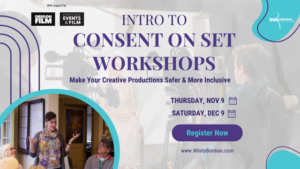 Are you prioritizing safety and inclusion in your creative production?
My 4-hour, in-person workshops will teach you how to build consent into the foundation of your film, theater, live performance, and other artistic endeavors.
While humans can create beautiful and profound works of art, we may inadvertently create unsafe work environments if we fail to be mindful of consent and boundaries.
As a Certified Consent-Forward Artist with over 20 years of experience as a Producer and Director of film, digital, and live events, I have created these workshops to provide you with practical knowledge and tools to make your creative productions safer and more inclusive.
Workshops
Attend a workshop to integrate consent and boundaries into your professional and creative practices:
What You'll Learn
How to set boundaries and lead a Boundaries Check-In
The 5 Elements of Consent and how they increase safety and creativity
How to request and give consent throughout the creative production lifecycle
How and when to work with an Intimacy Practitioner, such as an Intimacy Coordinator (film/TV) or Intimacy Director (theatre, dance, and performing arts)
What to do when something goes wrong—and how to spot the warning signs before it occurs
Takeaways
You'll leave these half-day workshops with a foundational understanding of consent and boundaries to make your creative productions safer for everyone–regardless of their position on the Call Sheet or the "Org Chart".
Tickets
——
These workshops are possible thanks to support from the Portland Events & Film Office and the Oregon Film & Video Office.