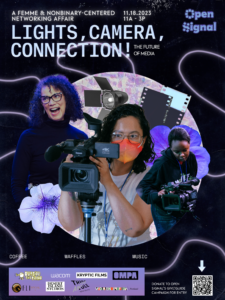 Lights, Camera, Connection is a femme & non-binary centered networking affair. All are welcome to attend to support Open Signal's efforts to advance gender equity in film and video media arts and celebrate!
We are excited to host this open-house style gathering in our newly renovated lobby and community space. Help us warm up the space and enjoy a welcoming atmosphere for all who celebrate diversity and commit to equity!
We invite you to drop in, mingle, take in a showcase of content from femme and nonbinary media makers, and connect! Meet and network with esteemed media professionals in the Portland area, gathered to support diversity in the film and media industry. If you are femme or nonbinary and looking for opportunities or support to launch your career in film, this event is for you!
Connect with local organizations, collectives, freelancers, businesses, and artists from:
We are also offering free professional headshots, AND will be raffling off three tablets from Wacom!
Give through Open Signal's Give!Guide campaign (launching Nov. 1st) to guarantee entry (show your confirmation email at the door). We do have some capacity limitations to consider, so those looking to donate at the door will be welcomed in as capacity allows. Brunch is on us! Open Signal will provide an abundant spread to make sure you get your brunch fix for the weekend.
If you would like to support the event, but cannot attend, please contact Director of Growth, Courtney Rae, by email at [email protected]. In-kind donations of refreshments, floral arrangements, or grab bags are welcome, as well as financial support, of course.