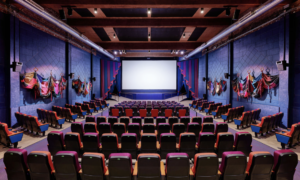 The Portland Art Museum's film and new media center, PAM CUT // Center for an Untold Tomorrow, is thrilled to announce the opening of the Tomorrow Theater, a new space devoted to expanding what constitutes cinema, art, and multimedia storytelling. The 250-seat Tomorrow Theater will open its doors to the public on November 3, 2023, with programming designed to inspire and surprise audiences and artists no longer content to be contained to a single medium, label, or art form.
The opening week, featuring legendary artist David Byrne, will give audiences a taste of what to expect from PAM CUT's new venue in the heart of Southeast Portland, at 3530 SE Division St. On November 3, Byrne will take over the Tomorrow Theater with an interactive and live presentation of Reasons to be Cheerful, in a special Portland-themed edition. Founded by Byrne, Reasons to be Cheerful is a nonprofit online magazine, which aims to inspire curiosity about how the world can be better and to encourage us to be part of that change.
Byrne's take-over will launch the theater's signature series, Carte Blanche, where world-class artists and creative polymaths are given free rein to activate the theater in bold and interdisciplinary ways. Future Carte Blanche guests will include Oscar-winning costume designer Ruth E. Carter, who will join in January 2024.
Tickets on sale October 16 at noon PDT
To find out more, visit https://tomorrowtheater.org/