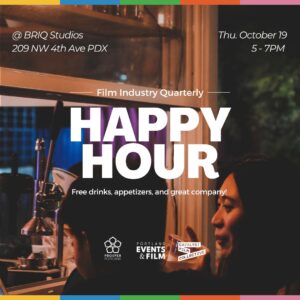 Please join the Portland Events and Film office, along with Catalyst Film Collective, to connect with a collaborative group of film industry professionals. We believe film, as an art, is important for its own sake as well as for our local ecosystem.
We want to meet you, hear from you, and be your resource for film industry updates and news from the organizations and agencies that work in the production and media industries.  Let's do what we do best—collaborate and create!
When: Thursday October 19, 2023 5:00-7:00pm
Where: Briq Studios 209 NW 4th Ave, Portland, OR 97209
Who: ALL are welcome to this free happy hour. If you know anyone in the Portland production and media industry who wants to network, find out about upcoming grant opportunities, and meet our local film industry agencies, non-profits, and playmakers, then this event is for you!