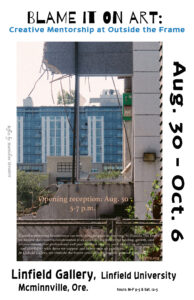 If youth experiencing houselessness can make films, they can do anything. At Outside the Frame (OTFPDX.org) we believe that creative collaboration is an essential ingredients for healing, growth, and empowerment. Our professional and peer mentors take the work of making art both seriously and playfully with those with those we support and in our own art practices.
Mentors are the lifeblood of Outside the Frame. Come see an exhibit dedicated to their work and impact.<
Aug. 30-Oct. 6, 2023
Video, photography, books, and mixed media works by OTF Mentors and Participants.
BLAME IT ON ART: Creative Mentorship at Outside the Frame | Exhibit
* Opening Wednesday, August 30, 2023
* 5:00 PM 7:00 PM
* Linfield Gallery – Miller Fine Arts Center, SW Keck Circle, Oregon 97128 USA
Opening reception: 
Wednesday, Aug. 30, 5-7 p.m.
Linfield University Gallery, McMinnville, OR
This exhibition is sponsored by the Lacroute Arts Series and the Linfield University Department of Art. The Lacroute Arts Series at Linfield University is made possible by the generosity of arts benefactor Ronni Lacroute and is dedicated to helping the University present art events.