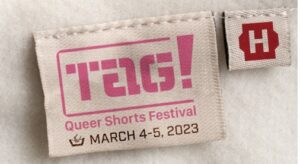 Tag! Queer Shorts Festival (formerly Corvallis Queer Film Festival) is celebrating its 10th anniversary year with a return to live screenings at our new home venue, the Hollywood Theatre.
This year's festival features four blocks of all-new queer short films from around the world spread over two days, March 4-5, 2023. The Saturday evening block, West Coast Chic, is the program to attend for the best local and regional submissions.
For complete information on the nearly 50 films in the 2023 anniversary program, visit the festival website at tagqsf.org.
Festival passes are just $35 (Hollywood member, senior, and student discounts available) and individual blocks are $10 for general admission. Tickets are on sale now at the Hollywood Theatre!