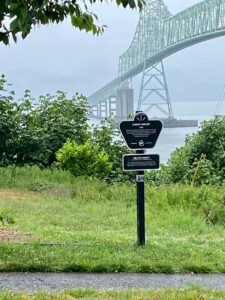 Adam at the @TheDailyWoo , or better known as, Adam-The-Woo, describes himself as an "80's pop culture nerd with a desire to travel and video what I see." What better place to check out some '80's movie locations than our very own Astoria on Oregon's North Coast? Adam recently explored the incredible Short Circuit house and gives us a fantastically detailed look at this Airbnb asset in Astoria. Give it a watch.
With set-jetting seemingly exponentially expanding inside the tourism space, this is a prime example of what visiting, experiencing, and staying overnight in a real film location looks like. Check out the Short Circuit House for an 80's immersion weekend away on the beautiful North Coast. There is a lot to see and experience in Astoria and Travel Oregon's handy Find Your Favorite Movie Location guide can help you decide what to visit next.
Additionally, visitors can use the film tourism SetJetters app to find the Oregon Film Trail marker that celebrates the "Short Circuit" location (one of 41 signs scattered throughout the state). This Alameda Park location offers a great viewpoint of the Astoria-Megler Bridge. There is a group of three Oregon Film Trail markers in Astoria, featuring facts and anecdotes from "The Goonies," "Kindergarten Cop" as well as "Short Circuit" – these films take their place in Astoria's film history, among well over a dozen other #OregonMade films that shot on Oregon's North Coast.
Two other Oregon Film Trail markers can be found in Astoria, one is positioned at the East End Mooring Basin on the Astoria Riverfront Trail (and it gives an alternative view of the "Goonies House"), and one is outside the Oregon Film Museum and across the street from the Flavel House. Close by there is another Oregon Film Trail marker in the Hammond Marina, Warrenton. You can stand next to the breakwater at the "Free Willy" marker and see for yourself where Keiko "jumped" to freedom.
The Astoria-Warrenton Area Chamber of Commerce and the Oregon Film Office developed the initial concept of the Oregon Film Trail, and identified Astoria movie locations, in partnership with the Oregon Film Museum, that represents the beginning of the statewide Trail. The Oregon Coast Visitors Association provided additional funding and support for the signs in Astoria and the North Coast. The Oregon Film Trail is partnered with the film tourism app, SetJetters – bringing you an interactive experience to film locations all over Oregon, and beyond.