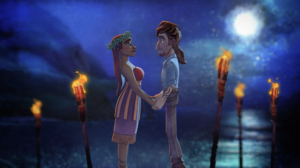 "The Moon Followed Me to Falmouth" will have its  US in-person premiere on Feb. 26th at the Oregon Short Film Festival at the Clinton Street Theater.
The musical short film was Executive Produced by Portland-based composer and filmmaker Kurt Rosenberg, based on his song of the same name. It was brought to life with stunning animation by Joël Gibbs of ARMADA studio.
This visually beautiful animated film is reminiscent of the old sea shanties found on the British Isles, a music genre that Kurt Rosenberg loves to listen to and compose. The film features the outstanding vocals of Will Keating, a renowned singer-songwriter/performer who hails from Falmouth. The story follows an English seafarer as he sings about his past adventures where he sees himself leave Falmouth as a young man, sail The High Seas, fall in love with an island maiden, and return home after an envious moon breaks them apart. To this day, he still wears the necklace she gave him.
It is a story that shows somethings you love can become lost, leaving us only mementos and memories of days long gone by.
Kurt formed his love for music at a very young age. Through his upbringing, he was exposed to a variety of musical genres. Kurt taught himself how to play the piano at age 12, composed a piece for his grade school orchestra, and started writing songs, with lyrics, in high school. As Kurt continued to hone his craft, one song in particular was to have a profound impact on the direction of his songwriting and compositions. That song was "Harry's Game", by Ireland's own CLANNAD. After hearing that song, Kurt wholeheartedly embraced Celtic Music and he's been writing Scottish/Irish-inspired music for well over 25 years. In a recent interview he said that, "Each piece of my music conveys a different emotion, thought, or message. I want to compose melodies that touch people and are memorable".
Kurt's music ultimately led him to filmmaking. He realized, early on, that the best way to get his music out into the musical sphere was to take his songs and produce music short films based on his tunes. His first film was Highland Home, based on the song of the same name. The film went on to win 54 awards/mentions, as it traveled around the international film festival circuit.
Kurt's ongoing success can also be attributed to his USA and international collaborations with the world's best in music and film. Tim Gorman, composer/producer/former keyboardist for The Who, orchestrated Highland Home, The Moon Followed Me to Falmouth, Strolling Down Brighton Pier, The Wish I Made, and A Heart Drifts Away. Kurt also teamed up with Jake and Luke Morgan, of Morgan Creative, Ltd. (Ireland), on the orchestration, filming, and editing of the music drone video, Dawn at Gougane Barra. Kurt has also worked with internationally renowned ensembles including the Royal Philharmonic Orchestra (London, England) and the Will Palmer Orchestra (Dublin, Ireland).