Attention local filmmakers: The Portland Film Office is happy to announce a Post Production Grant opportunity is opening March 15. Applications will be accepted until March 30.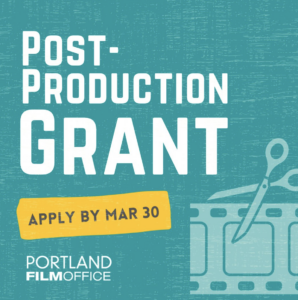 The Portland Film Office, in partnership with Travel Portland, is proud to offer a grant opportunity for Oregon-based independent film productions to support and offset the cost of the post-production process.
The funding is designed to encourage the completion of a local feature-length film and position local producers to build toward larger, more resourced productions. Past recipients of the Post-Production Grant have included "Sophie Jones" and "Clementine," both picked up by Oscilloscope Studios for world wide theatrical release and streaming services.
Four grants of $7500 each will be awarded.
Housed at and supported by Prosper Portland, the Portland Film Office is committed to the economic vitality of a Portland-centered production ecosystem and seeks to build the local supply chain and expand industry capacity.
Check out all the details on our website: bit.ly/3C6dOAz #PDX #ProsperPortland #TravelPortland #PortlandFilm