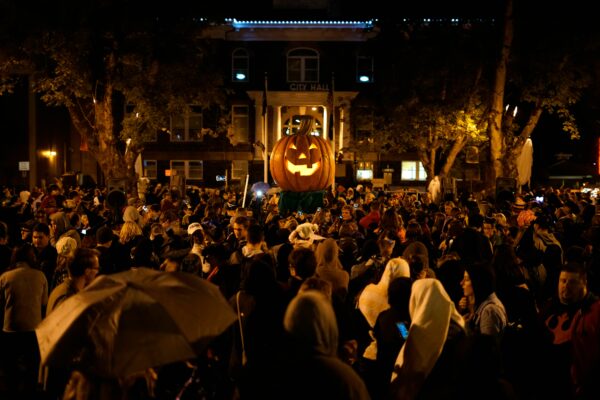 This fall the annual St. Helen's Spirit of Halloweentown festival will transform this small Oregon town into a spooky, family-friendly destination for six weekends beginning September 18 and running through October 31.  This year celebrity guest appearances from Ashley Greene, (Alice Cullen) "Twilight" and movie actors J. Paul Zimmerman and Phillip Van Dyke from"Halloweentown" have been added to its abundant offering of family-friendly events.  As well as the magical transformation of the historic Riverfront District to all things Halloween, and an homage to Disney's "Halloweentown" and the vampire movie "Twilight," you can now find two commemorative Oregon Film Trail signs in the downtown area.
While general admission to the festival includes a variety of activities such as a haunted house, costume contest, live performances, vendors, and photo ops, each weekend features unique activities which are only available for a limited number of days.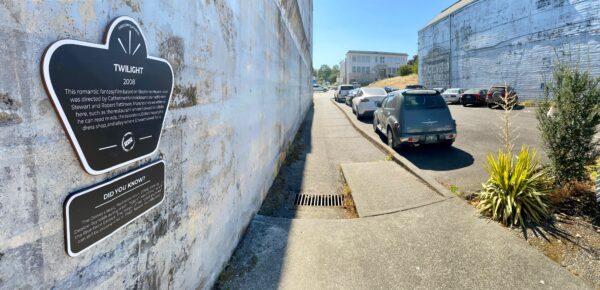 St. Helens, Oregon was the filming location for several scenes in the first "Twilight" movie, including the house of Bella Swan's father, the Petite Jolie dress shop, the Thunderbird and Whale bookstore, the Bloated Toad Italian restaurant, and the location where Edward saved Bella from her would-be attackers in an alleyway. St. Helens also starred in Disney's popular TV movie, with Debbie Reynolds, "Halloweentown." (To find and navigate to scene locations download the Film Tourism app from SetJetters.)
On Saturday, October 23, Ashley Greene will be available for exclusive photo ops, autographs, and a VIP meet and greet.  Actors J. Paul Zimmerman and Phillip Van Dyke will be at Spirit of Halloweentown on October 23 and 24. Zimmerman co-starred as Marnie's brother Dylan and Van Dyke played the braggadocious love interest in the made-for-tv movie. Both actors will be available for a VIP lunch and a question and answer session.
The most popular event of Spirit of Halloweentown is the lighting of the giant pumpkins. Help kick off the start of the holiday season with your family by counting down the seconds until two giant pumpkins are lit in the city's historic town square. In 2021, the Pumpkin Lighting Ceremony takes place on Saturday, October 2. One pumpkin is a replica of the giant pumpkin featured in "Halloweentown" and the other is an enormous work of steampunk metal art. The pumpkins, which both stand over six feet tall, are available for photo opportunities every day until the end of October.
The Spirit of Halloweentown ends the season with a special parade for children. Parents, guardians, and children are encouraged to dress in their best Halloween costumes and join in the Little Trick or Treaters Costume Parade on October 30. The event is free and includes prize opportunities and a chance for kids to parade along the city's main downtown street in full costume.
General admission tickets to Spirit of Halloweentown, along with special celebrity engagement tickets and a full list of events, are available on the festival's website. The festival will observe the latest COVID-19 restrictions as changes occur. Masks are currently required to be worn at the festival and we strongly encourage you to check the event website for any COVID-19 changes prior to your arrival.
For media inquiries regarding the 2021 Spirit of Halloweentown festival, please contact City of St. Helens Communications Officer Crystal King at [email protected].
About Spirit of Halloweentown:
In 1998, the riverfront city of St. Helens, Oregon served as the filming location of Disney Channel's Halloween television classic "Halloweentown." Each year thereafter, the city has transformed its Riverfront District into the Spirit of Halloweentown, a festival that celebrates all things spooky. This month-long event attracts tens of thousands of visitors each year and is geared toward anyone who loves Halloween. The Spirit of Halloweentown festival is regularly listed as a national destination spot for Halloween celebrations and has been featured on ABC News, MTV, Vogue, Entertainment Weekly, BuzzFeed, Country Living, Huffington Post, and many other recognized news outlets.
About the Community:
St. Helens is a Columbia River community rich in history and culture. On their expedition to the Pacific Ocean in 1805, Lewis and Clark made a stop in what is now St. Helens. In 1850, Captain H.M. Knighton of New England founded the town, which was first named Plymouth before being rechristened within a year to St. Helens for the town's magnificent view of Mount St. Helens. Originally established as a river port, St. Helens is located 30 miles northwest of Portland. As the county seat, it is the largest community in Columbia County with a population of about 13,000. Many of the city's community events are held in the Riverfront District where visitors and residents enjoy an expansive view of the Columbia River, Mount Hood, and Mount St. Helens.
Originally settled by New England loggers, St. Helens' basalt rock quarry was a major industry in the early 1900s. Because of the industrial operations occurring in St. Helens and its location on the Columbia River, it rivaled Portland as a competing port city. After an unfortunate fire burned the docks of Pacific Mail, a team of Portland businessmen persuaded Pacific Mail to locate in the new port town of Portland, establishing the port of Portland as the dominant port in the region.
The Riverfront District of St. Helens features a Nationally Registered Historic District encompassing 10 blocks, which includes residences and civic buildings dating back nearly a century. The town has also served as the backdrop to many popular films, most notably the Disney Channel television film "Halloweentown," and the film adaptation of Stephanie Meyer's novel "Twilight."