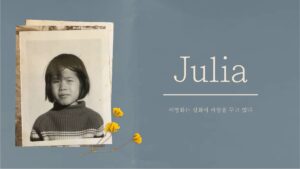 Emma Duvall, a Portland-based Korean American filmmaker, saw first hand the lack of diversity in the film industry. Stories told from the Asian American perspective often go untold, and roles for Asian women can be few and far between. Seeking to increase representation, Emma wrote her short film, "Julia".
Emma based the film on her mother's experience of growing up in an abusive orphanage in South Korea. It centers on seven-year-old Julia, as she faces a test of friendship, overcomes abuse, and navigates childhood with the odds stacked against her.
The production team is passionate about promoting Asian stories and is proud to have an all Asian cast. Set to film in August, the Julia team has been working tirelessly to make this film a reality. Julia is in the last week of a crowdfunding campaign to raise funds for the film. The project has received an outpouring of support from the Portland film community and the AAPI community. If you would like to learn more about the project and support Asian stories, visit their crowdfunding campaign today!
Follow along their journey on their website, Instagram, and Facebook.