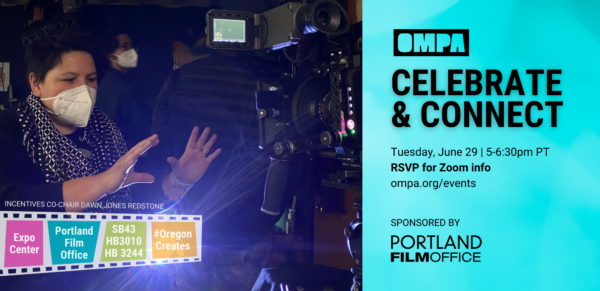 Our industry thrives when we work together! Join us virtually on Tuesday, June 29, from 5-6:30pm to celebrate all of the advocacy accomplishments of the last six months, and the people who made them possible. Plus, stick around and chat with your peers. We'll lead breakout rooms with conversation starters to help spark connection.Thank you, Portland Film Office, for sponsoring this virtual event! We are so grateful for your continued partnership.
Note: The event will be recorded.
---
WHAT ARE WE CELEBRATING?
HB3010 PASSED, and now it's time to recognize the hard work that went into this homegrown bill becoming a law! Major props to OMPA's DEI and Government Affairs Committees—specifically the Incentives Subcommittee Co-Chaired by Dawn Jones Redstone and Ashley Mellinger.
Remember all the letters of support we wrote last year when the Portland Film Office wasn't in the proposed city budget? They worked! We're also thrilled to have achieved full funding for Portland Film Office—and an additional investment from Travel Portland.
We'll know the fate of the tax incentive extension and expansion by the time of this event… 
---
WE ♥️ OUR SPONSORS
Portland Film Office serves as Portland's go-to resource for the film, video, and multimedia industry. They facilitate filming in Portland for productions of all sizes; capture economic impact for the city; promote Portland as a film location; and support the industry's success locally and internationally.
---
ABOUT OMPA
OMPA is where Oregon's media production professionals come together to strengthen our industry. We advocate for production-friendly policies, support a statewide professional network, and showcase local work on our platforms. Become a member to support our mission for a thriving and equitable industry!