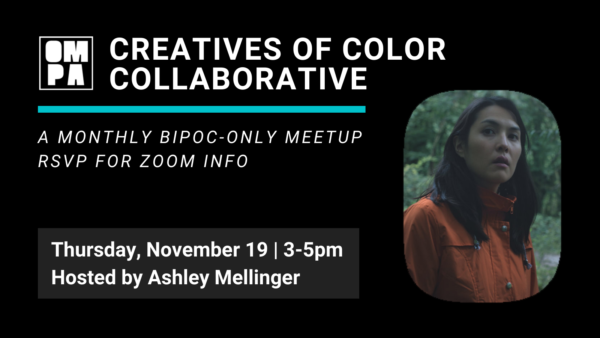 OMPA Creatives of Color Collaborative
Are you a BIPOC* professional seeking community with other Oregon creatives? Join OMPA's next Creatives of Color Collaborative to network, give or get advice, and ask questions in a private space.
This month's host is award-winning actor and producer Ashley Mellinger. As a member of OMPA's Diversity Committee, she is helping lead the effort to center diversity in Oregon's production incentives. Ashley is also Co-Founder of Desert Island Studios, an artist space and resource in Portland.
Come chat about Portland's indie scene, equity work in our industry, or anything else you want to bring to the group! 
*Note: OMPA's virtual Creatives of Color Collaborative events are a private space for BIPOC (Black, Indigenous, and People of Color) to talk openly. While we appreciate allies, please respect this need.
• • •
About the Host: Ashley Mellinger
As an artist with a background in both film and theatre, Ashley Mellinger is committed to telling stories that re-imagine traditional narratives and include marginalized voices without centering on their identities and their trauma. She is an award-winning half-Korean actor and producer. After graduating from NYU's Tisch School of the Arts and working in NYC for a decade, she moved to Portland, Oregon and co-founded Desert Island Studios to increase artists' accessibility to film resources. 
Recent producing credits include Dawn Jones Redstone's proof-of-concept for her debut feature film Noelia, and Roland Dahwen-Wu's debut feature Borrufa. Pre-pandemic, her writing debut L'Ortolan was accepted in the 2020 Spliff Film Festival and Portland Shorts Fest. Just after the pandemic, she co-wrote and starred in the AAFL 72-Hour Shootout film, Vent (which won 2nd Runner Up, Best Editor, and Best Screenwriter).  
• • •
About the Organizer: OMPA
Oregon Media Production Association (OMPA) is a central resource that thousands of production professionals turn to for reliable information, political advocacy, and advancing common interests. Please Donate or Become a Member to support our work in the industry!