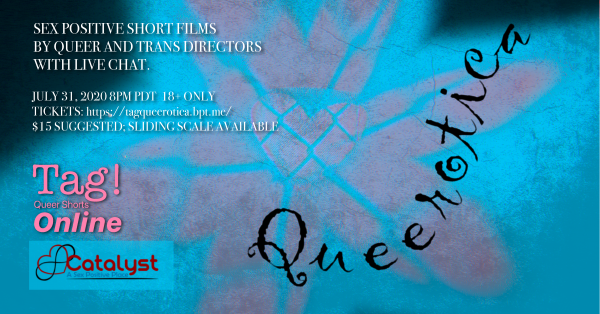 The Portland-based Tag! Queer Shorts Festival is offering monthly online community support events with all ticket sales and donations split evenly between participating filmmakers, the Tag! festival, and LGBTQIA+ serving community partners.
The next screening kicks off with a live viewing party of erotic shorts on July 31 at 8pm in collaboration with Catalyst: A Sex Positive Place, a venue that offers education, events, and space for fetish/kink communities.
The Queerotica program features festival-favorite adult submissions from past years as well as some fresh material from queer and trans filmmakers from around the globe. The films portray a broad range of sexual identities and interests in pieces ranging in tone from hilarious to deeply political—but always affirming and consensual.
Tickets are available at https://tagqueerotica.brownpapertickets.com. Suggested contribution is $15; sliding scale tickets are available. Ticket holders are encouraged to attend the live chat event, but films will be available for independent viewing through August 2.
This event contains explicit sex and is for film enthusiasts age 18+ only.
For more information, contact the Tag! Queer Shorts Festival at [email protected]