The Ashland Independent Film Festival announced today the opening of the AIFF Film Center, the newest addition to Ashland's vibrant visual and literary arts scene on East Main Street.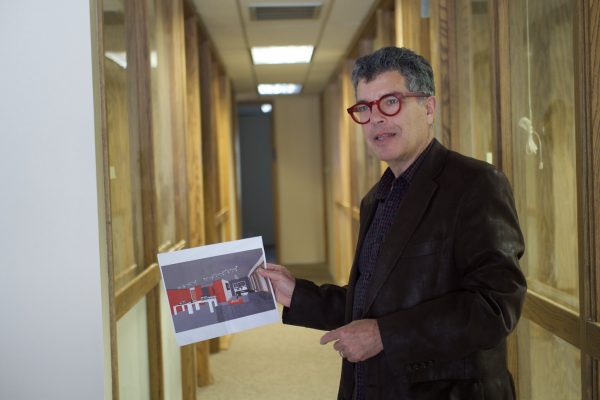 The new AIFF Film Center will serve as a year-round social hub for film lovers and provide expanded office space for the growing organization. During its annual flagship festival in April, the center will also serve as a gathering space for members and volunteers."We are excited by the opportunity to start offering screenings and workshops year round," said Richard Herskowitz, executive and artistic director of AIFF. "Our members and volunteers will also love the convenience of a comfortable space where they can meet up with friends, discuss films, and interact with special guests during our festivals."

The move to Main Street is part of the growing organization's recent build-up of year-round programming including the expanded Varsity World Film Week in the Fall and Best of the Fests screenings around the region.
AIFF is working closely with community partners to develop a program of year-round screenings, classes, workshops, gallery exhibitions, and more. The new Film Center's spacious lobby can be converted into a reception space, a 60-seat screening room, a small retail area, and a media gallery.

According to Herskowitz, "Our audience surveys convey a clear desire for more independent film offerings all year long. There is a hunger for the diverse cultural voices and artistic experimentation of independent films and growing demand, throughout the year, for the educational offerings we provide for K-12 through adult learners."

The new AIFF Film Center will also position itself to better serve the region's economic development and tourism goals. Its location on Main Street and growing year-round programs will increase AIFF's visibility and provide more offerings to locals and visitors. Situated near to the Ashland Art Center, across from the Public Library, and close to SOU's Schneider Museum of Art and Bloomsbury Books, there will be opportunities to expand collaborations between the organizations and establish the east side of Main Street as a hub of visual, literary, and media arts activity. 

Staff will move into the new facility in mid-December, and the new AIFF Film Center opens to the public at 389 East Main Street in early 2020. The public can get a sneak preview of the space at the upcoming First Friday on Dec. 6, when the center will open from 5 to 8 p.m. While the center is still under construction, AIFF will share several short films that are in contention for the April festival and there will be two works of art by David Piches, who designed the 2020 festival poster depicting a bird's eye view of Ashland. The public is encouraged to stop by, meet with AIFF staff and board members, and envision the new Film Center.