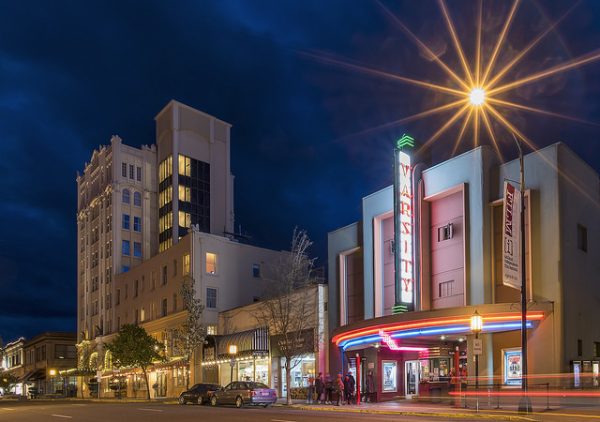 The Ashland Independent Film Festival has announced its lineup for the five-day festival, April 12-16, 2018, screening in venues across Ashland and—for the first time—Medford. The year's lineup includes over 120 films chosen from nearly a thousand films submitted to the festival, or specially selected by AIFF Artistic and Executive Director Richard Herskowitz. The entire program, including information about show times, live performances, art exhibits, filmmaker TalkBack panels, children's programs, Community Conversations, and more is now online at ashlandfilm.org.
Special screenings include the upcoming features First Reformed (directed by Paul Schrader and starring Ethan Hawke), On Chesil Beach with Saoirse Ronan, Brett Haley's Hearts Beat Loud with Nick Offerman, Andrew Haigh's Oregon-filmed Lean on Pete, and Borg vs. McEnroe, starring Shia LeBoeuf, plus 2018 Sundance Film Festival award-winning documentaries Minding the Gap, On Her Shoulders, and Crime + Punishment.
Award Recipients
AIFF is honored to present Rogue Awards to two special guests, Academy Award®-winning actor Chris Cooper and Seattle-based director Lynn Shelton. Cooper launched his film acting career with his role as a union organizer in Matewan, the first of five films he appeared in directed by John Sayles, and won the Academy Award in 2002 for his supporting role in Adaptation. In addition to participating in the TalkBack panel "Talking Acting with Chris Cooper," Cooper will present on Opening Night the world premiere of a film he narrated and executive produced, Intelligent Lives, accompanied by director Dan Habib and executive producer Marianne Leone Cooper. Cooper met Marianne Leone in 1979 at an acting class in New York City. Their son, Jesse Lanier Cooper, was born three months prematurely in October 1987 and developed cerebral palsy and epilepsy. Chris and Marianne became advocates for inclusive education and champions of kids with special needs. Jesse was a mainstreamed student at Silver Lake Regional High School where he was an honor student. In 2005, Jesse died suddenly from a seizure at age 17. Intelligent Lives explores how our society's narrow views of intelligence have led to the segregation of people with intellectual disabilities.
AIFF will also present a Rogue Award to Lynn Shelton, who will present her sixth feature film, Outside In, starring Edie Falco and Jay Duplass and released by The Orchard. Shelton, proudly based in Seattle, has had a stellar career as an independent film director since winning the Grand Jury Award at the 2006 Slamdance Film Festival with her debut feature, We Go Way Back. Since then, Shelton's films, including Humpday (2009), Your Sister's Sister (AIFF2012), and Laggies (2012) have garnered awards and acclaim at Sundance, the Film Independent Spirit Awards, and the Gotham Independent Film Awards, as well as theatrical distribution from Magnolia and A24. Beginning with Mad Men in 2010, Lynn has directed over 25 episodes of television series including New Girl, Fresh Off the Boat, Master of None, Maron, and GLOW.
The recipient of AIFF's 2018 Pride Award, honoring filmmakers who have made significant contributions to LGBTQ media, is Zackary Drucker, an independent media artist and trans woman whose work crosses boundaries between the art world and popular culture. Drucker has performed and exhibited her work internationally in museums, galleries, and film festivals including the 2014 Whitney Biennial, MoMA PS1, Hammer Museum, and SF MoMA, among others. She is also a producer on the Golden Globe® and Emmy®-winning Amazon series Transparent. She will screen an episode of this series and two films featuring her late friend and mentor, Flawless Sabrina: Drucker's video, She Gone Rogue and The Queen, Frank Simon's rarely screened documentary of the 1967 Miss All-American Camp Beauty Pageant.
Other special guests attending this year's Festival include James Ivory, recipient of AIFF2017's Lifetime Achievement Award and a 2018 Academy Award for his screenplay of Call Me By Your Name. Ivory will return to present the restored classic Shakespeare Wallah and join in a conversation after the screening with Oregon Shakespeare Festival's Artistic Director Bill Rauch. AIFF is reaffirming its mission to promote independent filmmaking by honoring companies that have built the infrastructure of the independent film movement and challenged Hollywood's dominance. This year, tribute will be paid to Milestone Films, which has gained an international reputation for releasing classic cinema masterpieces, groundbreaking documentaries, and American independent features. Since 2007, Milestone has concentrated on the restoration and worldwide distribution of films outside the Hollywood mainstream featuring "lost" films by and about African Americans, Native Americans, LGBTQ, and women. Milestone co-founders Dennis Doros and Amy Heller will present their recent restoration of No Maps on My Taps, accompanied by its director, George Nierenberg. The screening will be followed by a live performance and "tap-in" (with all audience members who bring tap shoes) led by dancer Suzanne Seiber.
The second "Indie Institution" honoree will be the Independent Documentary Association (IDA). IDA's educational, advocacy, production support, and exhibition programs, including the Pare Lorentz and Enterprise Documentary Funds and Documentary Magazine, provide resources, create community and defend rights and freedom for documentary artists, activists, and journalists. IDA's Director of Programming and Policy, Claire Aguilar, joined by the films' directors and subjects, will present The Blessing (an IDA Pare Lorentz Fund grantee) and Crime + Punishment (Enterprise Documentary Fund grantee, and winner of a jury prize at Sundance). Aguilar will also moderate the TalkBack panel "Seeking Justice in Documentary."
According to Festival director Richard Herskowitz, "The tribute to Milestone Films' restoration and distribution is part of a larger programming focus this year on classic cinema that includes Shakespeare Wallah and No Maps on My Taps. Exposure to classic films, I believe, inspires indie film audiences and filmmakers (from James Ivory to Lynn Shelton) to question and reinvent filmmaking conventions." The emphasis on classic film is highlighted in this year's festival posters, based on images from the animated films of Stacey Steers. Steers' sculptural media installations will be on view at the Schneider Museum of Art as part of an exhibition, The Animated Image ( April 12 – May 12) co-curated by Herskowitz and Schneider Museum director Scott Malbaurn. Also in this exhibition are animated media installations by Chris Doyle, Rick Silva, and Matt Bollinger.
Steers' trilogy of animated films featuring collages of silent film actresses in magical settings will be presented with new scores composed by Ashland-based composers Terry Longshore and Tessa Brinckman, which they will perform live on Saturday, April 14 at SOU Music Recital Hall. Also on that program will be a live performance accompanying the Russian silent film The Dying Swan, a Milestone Films release, with a score created by Ashland-based international opera and film score composer Joby Talbot. Talbot will perform on piano, joined by cellist Michal Palzewicz and violinist Jessica Lambert.
Other classic film-themed screenings include Love, Cecil, the documentary on Academy Award®-winning costume and set designer and photographer Cecil Beaton that will be accompanied by its director Lisa Immordino Vreeland. Film archivist Michael Zahs, the charismatic film archivist and subject of the documentary feature film Saving Brinton, will demonstrate an early Magic Lantern, a progenitor of the film projector, following Saving Brinton's screening at the Historic Ashland Armory. Zahs will also demonstrate the Magic Lantern to kids during AIFF's Family Day of film presentations and hands-on filmmaking activities at ScienceWorks Hands-On Museum on Saturday, April 14.
Many screenings feature Q&A sessions with the over 100 visiting filmmakers and film subjects attending the festival. Audiences will have the opportunity to rub elbows with filmmakers at the Opening Night Bash at the Ashland Springs Hotel and over a late-night drink at the AIFF AfterLounge, hosted by a different restaurant every night. The physical box office is located at the Information Kiosk at the Downtown Ashland Plaza beginning March 26, 2018. Ticket ordering begins for AIFF Members on March 26, and for the General Public on April 1. Memberships, tickets, as well as more information about films, special events, and parties are available online or on your mobile device at ashlandfilm.org.
ABOUT ASHLAND INDEPENDENT FILM FESTIVAL
The Ashland Independent Film Festival screens 100-plus independent documentary, narrative, animated, and short films at the Varsity Theatre, the Historic Ashland Armory, and the Ashland Street Cinema each April. Praised by filmgoers for the intimate access they have to filmmakers, and by filmmakers for the warm and intelligent reception they receive, the Ashland Independent Film Festival was named one of the "Top 25 Coolest Festivals in the World" by MovieMaker Magazine in 2016. The National Academy of Motion Picture Arts and Sciences and the National Endowment for the Arts have each twice awarded AIFF with rare festival support grants. The 17th annual festival will be held April 12-16, 2018.
PROGRAM SUMMARY
Visit ashlandfilm.org for photos, descriptions, trailers, and tickets.
2018 Documentary Feature Selections
América
The Blessing
Citizen Blue & The March
Crime + Punishment
Dark Money
Five Seasons
The Foreigner's Home
The Gospel of Eureka
I Am Maris: Portrait of a Young Yogi
Intelligent Lives
Itzhak
The King
Liyana
Love, Cecil
Minding the Gap
Modified
Mr. Fish: Cartooning from the Deep End
No Maps on My Taps
On Her Shoulders
One October
The Queen
The Reluctant Radical & Symphony for Nature: The Britt Orchestra at Crater Lake
A River Below
Saving Brinton
Skid Row Marathon
Sky and Ground
A Tuba to Cuba
Two Trains Runnin'
2018 Narrative Feature Selections
Back at the Staircase
Borg v. McEnroe
The Dying Swan
First Reformed
For Izzy
Fort Maria
Hearts Beat Loud
The Last Hot Lick
Lean on Pete
On Chesil Beach
Outside In
People People
The Rainbow Experiment
Shakespeare Wallah
Wild Honey
SHORTS PROGRAMS
Curated Programs
CineSpace
KidFlix: Best of the New York Children's International Film Festival
Animated Worlds: Stop-Motion Classics with Mark Shapiro
Zackary Drucker: Trans Film Television
Competition Program
Short Stories 1: In the Light of Day
Short Stories 2: After Hours
Short Docs 1: About Work
Short Docs 2: About Community
Short Stories and Docs: About Family
Locals Only
Locals Only 1: Family Friendly – Launch Student Film Competition
Locals Only 2: Ashland Roots
Locals Only 3: On the River, On the Land
PERFORMANCES
Silent Scores: The Dying Swan and Stacey Steers' Trilogy with Tessa Brinckman, Terry Longshore, and Joby Talbot
Live Tap-in with Suzanne Seiber following No Maps on My Taps
FAMILY DAY AT SCIENCEWORKS
Saturday, April 14, 10am-5pm: Hands-on film activities and presentations by NASA's Ralph Grau, archivist Michael Zahs, and LAIKA's Mark Shapiro
AIFF MEDFORD
4 shows at Collaborative Theatre Project on March 21, April 14 and 16, and a special screening at Kids Unlimited of Dolores with Peter Bratt and Dolores Huerta (May 3)
EXHIBITION AT SCHNEIDER MUSEUM OF ART: THE ANIMATED IMAGE
Media installations by Stacey Steers, Chris Doyle, Matt Bollinger, and Rick Silva on view April 12 – May 12.
TALKBACKS
Talking Acting with Chris Cooper
Seeking Justice in Documentary
Composing Scores for Classic and Contemporary Films