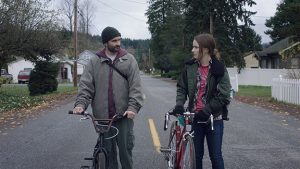 Fresh from SxSW, OUTSIDE IN is Lynn Shelton's latest project. It was shot in Granite Falls, Washington, and stars Edie Falco and Jay Duplass.
OUTSIDE IN opens April 6 at Cinema 21 in Portland and Kiggins Theater in Vancouver. Lynn will be there for Q&As on April 7!
After serving 20 years for the crime of essentially being in the wrong place at the wrong time, 38-year-old Chris (played by co-writer Jay Duplass, TRANSPARENT, LANDLINE) is granted early parole thanks largely to the tireless advocacy of Carol (award winner Edie Falco, NURSE JACKIE, THE SOPRANOS), his former high-school teacher. As he struggles with the challenges of navigating the modern world as an ex-con, and with a fraught relationship with his brother Ted (Ben Schwartz), Chris ends up confessing his romantic love for Carol — a love that, given her marital status, Carol cannot reciprocate. Or can she? Carol longs for something her husband no longer provides. Meanwhile, Carol's daughter Hildy (Kaitlyn Dever) befriends Chris, finding a kindred spirit in this awkward, tormented older guy.
Known primarily for dramatic comedies such as LAGGIES, HUMPDAY, and YOUR SISTER'S SISTER, whose central characters fumble towards fulfillment and self-awareness, Shelton mines a more dramatic terrain with OUTSIDE IN. Exploring themes of reintegration and release as experienced by three small-town strivers searching for a way out of their physical and emotional trappings, Shelton finds universality through her distinctly regional approach to dramatic filmmaking. Playing two people inexorably drawn to each other despite being in vastly different places in life, Jay Duplass and Edie Falco concoct unforgettable screen chemistry out of two characters trapped a fraught relationship and tortured by yearning.
OUTSIDE IN shot for 20 days in October and November 2016, using the American Legion Hall in Granite Falls as the production base, offering close proximity to 85 percent of the film's locations, most of which were within walking distance from home base. Despite grey skies and inclement weather, cast and crew warmed to small-town life in Washington State, with its close-knit bonds and unvarnished exterior. "It helped so much to inform my character, watching people go about daily life in Granite Falls," says Duplass. "It's the kind of town where people walk everywhere because they don't have transportation and the clothes they're wearing are 25 years old." Concludes Shelton: "I loved the idea of embedding in an actual community — geographic specificity is something I always hold dear, because I think you can feel it on screen, through the grays and the greens and all the rain."