This week we go to the most local, most extensive VHS/DVD archive we have (although if you ever have a chance to look into the film and video archives that the Oregon Historical Society has, that's just as great, but in a uniquely different way) – Portland's own Movie Madness. As some of you may know, The Hollywood Theatre is currently in the midst of a Kickstarter Campaign to "save" Movie Madness – but they've blown past the "saving" and are now looking to "enhance." This is good news and Raider/Contributor Phil Oppenheim has a chance to sit down a speak with Movie Madness founder Mike Clark and Hollywood Theatre Head Programmer Dan Halsted.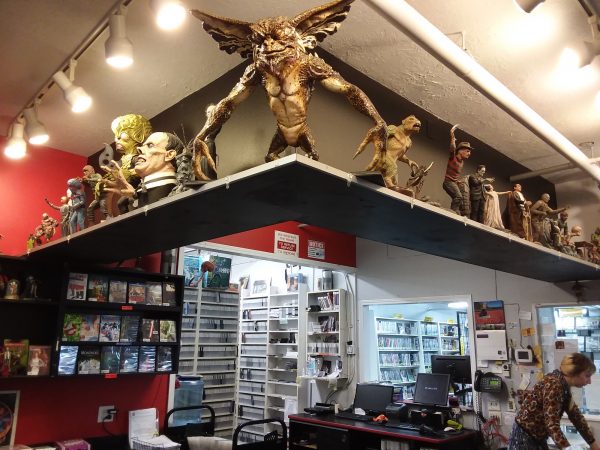 Thanks to the good will and deep-pocketed generosity of more than four thousand movie lovers, Movie Madness, Portland's legendary video store, is safe.  As the Confluence reported on October 12, the Hollywood Theatre — Portland's historic, community-centered non-profit movie palace — had campaigned with Movie Madness's owner, Mike Clark, to buy the store out and welcome it under its marquee, with the assistance of funds raised via its Kickstarter crowd-sourcing.  The fund drive was a huge success, with "Save Movie Madness" easily blowing past its aggressive $250,000 goal.  Fans' enthusiasm proved to be so strong that the drive has set itself a new stretch goal: if the theatre and video store can raise another $100,000 by November 10, it will build a new Screening Room within Movie Madness, combining the Hollywood's curatorial genius with the vast library of DVDs and VHSs, creating a vibrant space for Portland's film-loving community.
The Confluence recently caught up with Clark and Dan Halsted, Head Film Programmer at the Hollywood, to talk about the fund drive's success and the joint-venture's plans for the future.
Were the two surprised by the response to their Kickstarter campaign?   Clark was "blown away," even though he had always felt that "it was going to be a success."   What did surprise him was how quickly film-lovers turned out in droves to save the store: "I never dreamed that in the 10th day we would reach our goal," thinking that declining video-store sign-ups over the last five years, the growth of online streaming services, and newcomers to Portland not knowing about the shop might account for a slow-build crowd-sourcing.
Halsted added that several factors contributed to the success, including Portlanders' love for the Hollywood Theatre: "It's a mix …I think it was people who have gone to the iconic institution of Movie Madness for years, I think it's supporters of the Hollywood Theatre, because we've become so popular in town the last few years, and I think it's the timing of everyone who has moved over to Netflix and streaming but are now figuring out that they can't find something that they actually want to watch, that they're being limited by these giant corporations."
In classic Portland fashion, it's the opposition to the big guys – Netflix, sure, but also Hulu, Amazon, HBO, and others – that fires up both local support and Halsted and Clark's passion.  Halsted invites movie fans to make a stand against Big Brother's control of our TVs and computers, declaring, "Don't let giant corporations control what you want to watch and when you get to watch it!" and Clark eagerly seconds him, making the pronouncement that "I don't want to be a prisoner in my own home!  I want to go out to my video store and get my favorite movie, you know?"
They have a point.  As they've noted elsewhere, the big streamers have a lot of popular contemporary movies on offer, but are sorely lacking in terms of older classics, smaller art-house films, cult flicks, and vintage TV;  Halsted notes the fact that Netflix only has 250 movies from before 1990 with a dismissive "that's pathetic."  And it is.  But it's also created a niche for the community of hard-to-find-film fans that makes Movie Madness so vital.
And both Movie Madness and the Hollywood take the community building they've been doing very seriously.  That's how they conceived of a new Screening Room as the perfect stretch goal project: as a way to create a physical space for their supporters to hang out, meet up with each other, and learn about and talk about movies.  Halsted imagines that "people can have their own film clubs, we can have a film noir night, or a horror night, and let the community cultivate it."   
The Hollywood will help with the programming and curation, and Clark would like to keep a hand in the Screening Room's festival selection too.  In fact, he's already picked out its premiere film.  "I'd like to present the first movie," he hints, coyly, "And the first movie I'm going to present … I'm not going to tell you.  But it's gonna be something really good!
The additional $100,000 will go to acquiring seating for the space, soundproofing, and refurbishing into something appropriate to the building and the neighborhood.  And anyone who's been to the fantastic microcinema at Portland International Airport knows well the Hollywood Theatre's eye for detail in creating unique community screening spaces.  With Clark and Halsted suggesting that the Screening Room could also feature an improved snack bar, espresso, and wine and beer – why not dream big? – the Screening Room could swiftly become a beloved space for everyone in the city (and for those visiting from afar as well). 
The only thing separating their ambitious vision from reality is funding, which makes the last week or so of the Kickstarter campaign so important.  That's why they've added some new donor incentives into the mix, including a limited edition screen-print poster, tickets to A Night at the Movies With Todd Haynes (which will be a double-feature including Beyond the Valley of the Dolls, a cult/trash classic!), permanent sponsorship of select films, and more.  Visit Kickstarter to learn more.
Both the Hollywood and Movie Madness have carved out a common niche of movies that lie outside the mainstream, that range from celebrated classics to unheralded rarities, many of which are out of print and unavailable any other way (and the store stocks VHS versions of movies that have never made it to DVD).  Which movies would Clark and Halsted suggest checking out that you might not have seen before?  Clark recommends the two-fisted truck-driving film noir They Drive By Night, directed for Warner Bros. by Raoul Walsh in 1940.  The movie is highlighted by a powerful star turn by Ida Lupino, whose career Clark suggests following up on too; she was a trailblazing director as well as an actress, helming such now-obscure Movie Madness favorites like The Hitchhiker, The Bigamist, and Hard, Fast and Beautiful.
Halsted's been itching to create a section of Movie Madness dedicated to '70s Crime Neo-Noir; as he notes, "there are so many of those movies that have slipped through the cracks, and when I've shown them, people are blown away.  Movies like Straight Time, and Charley Varrick, The New Centurions …" As talk turns to other rare and unknown films, the two like-minded cineastes start arguing the merits of various others, agreeing that this particular conversational thread "could go on for hours."
One rabbit hole the two happily jump into: their mutual love for cult movies.  Clark suggests that Movie Madness's original success was based in part on his embrace of Psychotronic films – the weird, cult genres first described by movie uber-geek Michael Weldon in his punky Xeroxed zine in the early '80s – which is a legacy the Hollywood has built on, with events like B-Movie Bingo Nights, Kung Fu Theatre, and Grindhouse Film Festivals.  Psychotronic films "were my specialty," brags Clark, there were no video stores that specialized in cult films when he started – "They didn't even have Russ Meyer films!" he exclaims with surprise – and his focus on weirdness fans couldn't get elsewhere was what "brought customers in."  With the Hollywood's simpatico support, Psychotronic junkies (you know who you are) will be able to get their fix of fringe films, and bring their friends and new fans into the fold too.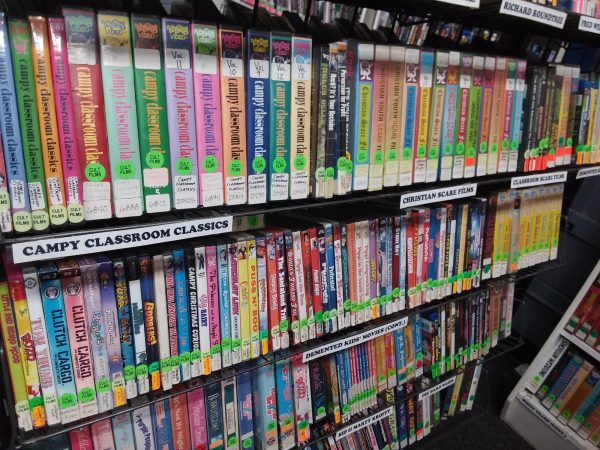 Their rapport is obvious, and their enthusiasm for movies is infectious.  Clark and Halsted promise to re-energize Movie Madness with the excitement and fun that has revived the Hollywood Theatre, under the stewardship of its executive director Doug Whyte and the rest of the theatre's team.  Whyte and company brought the Hollywood back from years of neglect and, as Halsted puts it, "really hard times" for a few decades, turning it into a regional showcase for film-going; while Movie Madness is healthy now, its future under Hollywood management is guaranteed to be even brighter.
One of the most impressive highlights of Movie Madness is its Museum of Movie History, jam-packed with historical artifacts, original costumes, and rare memorabilia that make a visit to the store a movie-buff must-see.  The Museum and its collection will continue to be owned and overseen by Clark, but its clout will be amplified by the partnership.  Halsted explains that "as a nonprofit, would like to add to the memorabilia as well.  We can reach out to filmmakers, and production companies, and take donations" that could make the collection even more extraordinary.  Clark adds that new exhibits – like the soap that Brad Pitt holds in David Fincher's Fight Club, now proudly on display, thanks to the contribution of the director's sister, Portland-based producer Emily Fincher – will continue to grow, and he's anticipating that other filmmakers and collectors will likely loan and donate even more in the future.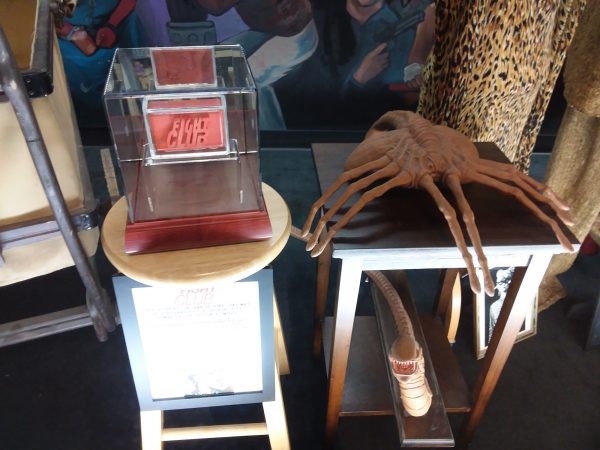 Clark's favorite item in the current collection?  That would be Faye Dunaway's dress, from Arthur Penn's Bonnie and Clyde (1967).  Halsted picks out the shotgun William Holden wielded in Sam Peckinpah's The Wild Bunch (1969).  (Full disclosure: my most-coveted items are the satin jacket and lunchbox – with the misspelled TEENAGE LABOTAMY scrawled inside! – that PJ Soles carried as Riff Randell in my all-time favorite Roger Corman flick Rock 'n' Roll High School, from 1979).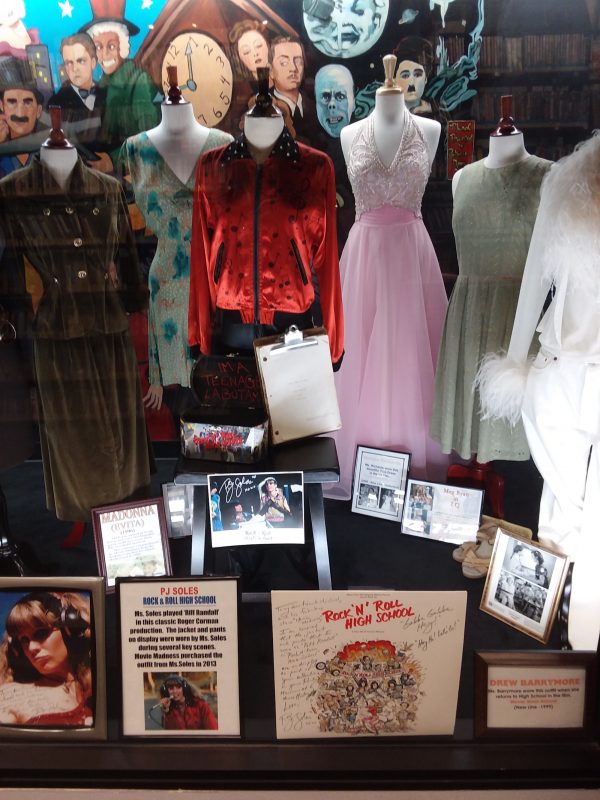 Before finishing our conversation, I wanted to make sure that one section of the store was going to remain intact: the nearly 100 titles by local Oregon filmmakers.  Happily, the collection will not only remain, and continue its current sampling-encouraging policy – Movie Madness loans the films out for free (!), with the rental of another film at full price – but will grow along with the new management as well.  Clark will continue to encourage new submissions to the collection; if you're a local filmmaker who'd like their film considered for inclusion, just send Movie Madness a DVD for screening and approval.  I've relied on the section for several picks as the Raider of the Lost Archive, and with the Oregon films joining the 80,000 other rare, classic, famous and infamous titles that Movie Madness will now own under the expert aegis of the Hollywood Theatre, we can all expect to explore and enjoy them for a long, long time.
As we wrapped up our time together, the loquacious raconteur Clark dropped some  last-minute, intriguing autobiographical bombshells: his grandparents were circus performers, and he considers himself their spiritual heir, a show-person in his own right.  In his pre-video-store career, he worked as a studio post-production coordinator in Hollywood, contributing to the final look of big-budget films, but as a kid he made his own 8mm movies – and even built his own backyard version of Disneyland when he was 12.  In conversation he channels his childhood and gleefully recalls: "I took my parents' garage and turned it into Snow White and the Seven Dwarves, and then I created the African Safari Boat going all the way around my parents' yard, and I had my little animals up there, and I'd pull little strings to make it look like they were moving."  Hand-made and no-frills, Clark built his own DIY Happiest Place on Earth, relying on his showman's love for entertaining his neighbors for inspiration.  "With imagination," he explains, you can make it work."  And it's his wild-eyed imagination – combined with the vision, enthusiasm, and curatorial expertise of the Hollywood Theatre – that convinces me that the Movie Madness revival project will work very well indeed.
There's still time to contribute to the Kickstarter campaign!  Help Movie Madness and the Hollywood Theatre build a Screening Room that will welcome generations of moviegoers by pointing your browser to Kickstarter now!
Written by Phil Oppenheim