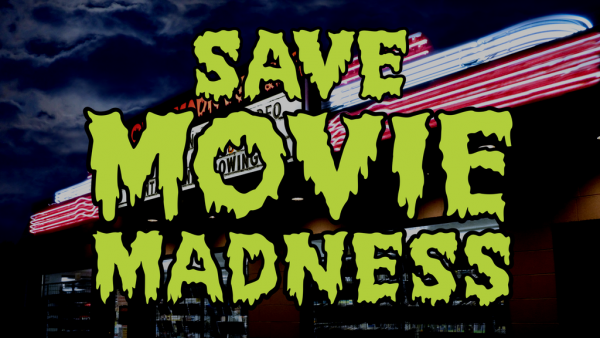 Help Save MovieMadness!
Help the Hollywood Theatre save legendary Portland video store Movie Madness and its world-class collection of 80,000+ titles.
The Kickstarter page outlines the plan: "Movie Madness is a Portland institution. Known for its vast collection, knowledgeable staff, and display cases full of legendary film props, the iconic Belmont storefront has a deserved reputation as one of the best video stores in the country.
But now Movie Madness is in danger of closing forever. The Hollywood Theatre has the chance to purchase Movie Madness and fold it into our nonprofit, ensuring that this invaluable collection remains available to Oregonians for years to come. We must raise $250,000 by November 10 or Movie Madness will close and the collection will be sold.
With your help, we can save this important piece of Portland's culture and ensure its collection of 80,000+ titles remains accessible to movie lovers everywhere.
Movie Madness was founded in 1991 by Mike Clark. Mike is now ready to retire – and he's offered the Hollywood Theatre the chance to acquire his beloved business for $250,000. (The collection alone was recently appraised at $585,000.)
If we succeed in raising our goal, the Hollywood Theatre will buy Movie Madness – the business and the 80,000+ title collection – and transition it into our nonprofit. We will continue to rent the Belmont storefront for the foreseeable future, and Mike will continue to display his remarkable collection of film props in the store's film museum. We will also retain the store's current employees.
The Hollywood is the right organization to buy Movie Madness and ensure its long-term survival. We've lovingly restored our 1926 movie palace, and opened our new microcinema at Portland International Airport. We brought 70mm film presentation back to Portland. And we're a thriving nonprofit with 3,200+ members who believe in our mission of preserving and promoting the art of film.
By acquiring Movie Madness, we're not trying to save a dying business model – we're going to help it evolve by rethinking the role it plays in the community.
We'll expand our popular membership program to include benefits at Movie Madness.
We'll explore community engagement opportunities through construction of a new screening room and the development of new partnerships.
We'll partner with Free Geek to provide affordable access to VHS, DVD, and Blu-ray players.
We'll continue to preserve and grow the collection, adding new releases and found treasures to ensure that Movie Madness remains a "living collection" that reflects the diverse interests and perspectives of the community it serves.
We've already secured a $90,000 grant from the James F. and Marion L. Miller Foundation to provide two years of operating support for the project, contingent on this campaign succeeding. We are prepared to invest time, energy, and money into this project to ensure the long-term viability of Movie Madness.
The single most important reason for acquiring Movie Madness is to keep its extensive collection accessible to the public. A collection of this size is an irreplaceable cultural resource.
There are 80,000+ titles in the Movie Madness collection. In 2016, according to Variety, Amazon had 18,405 movies and 1,981 TV shows; Netflix had 4,563 movies and 2,445 TV shows; and Hulu had 6,656 films and 3,588 television shows. (Read more about Netflix's "abominable selection of classic cinema" in this recent Newsweek article.) Movie Madness has twice as many titles available as all three platforms combined.
Streaming services offer only the illusion of choice. In reality, their constantly shifting lineup is dictated by studio licenses and distributor contracts, with titles subject to vanishing without notice.
Additionally, plenty of movies never make it to these services in the first place. Whenever there is an industry transition to a new format, movies are left behind – obscure and cult titles rarely make the cut.
These movies are not just entertainment – they represent diverse perspectives in a time when diverse voices are sorely needed in public discourse, and provide snapshots into our cultural history that can enlighten our present. By acquiring the Movie Madness collection, we'll keep these titles available to the public, and we'll make sure that the rare and one-of-a-kind titles in the collection are preserved.
Pledge today, and help us keep this irreplaceable community resource alive."