This week we take a creek less traveled to the center of the state and explore a comedy that only the 1980's could've created and then the rest of history has somewhat ignored. Along the way we connect the dots between an Astoria artist, the cast of "Animal House," "Ghostbusters," "Hill Street Blues," and "Porky's" and throw in a creator of "Grimm" for good measure, all the while never taking our eye off that wet and wild…creek: the Deschutes River.
Raider/Contributor Phil Oppenheim takes us "Up The Creek" (which is not to be confused with "Without a Paddle" [2004] which would be, we're told, a dangerous combination in certain creeks).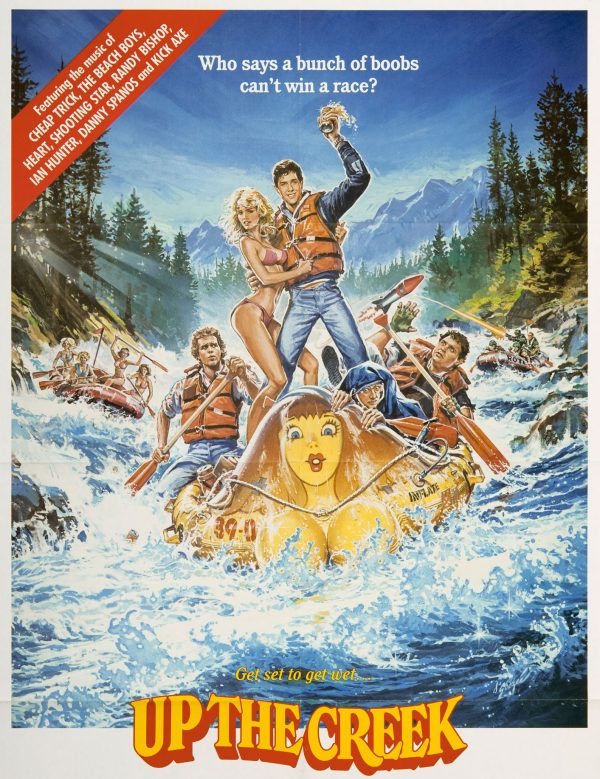 Now that students are settling back into their seats for daily doses of pencils, books, and teachers' dirty looks, it's the perfect time to catch up with an Oregon-shot raunchy comedy featuring collegiate hijinks, gross-out gags, and gratuitous nudity.  Animal House, you say?  Well, not so fast: we'll be celebrating that iconic film next July, in time for its 40th anniversary.  Instead, today we'll be featuring something decidedly less classic, the very '80s college comedy Up the Creek.
Now you may not have heard of this movie (unless you were living around Bend while it was being filmed), but the B-movie production company Arkoff International Pictures (spun out of the legendary exploitation factory American International Pictures, a story we'll have to cover another day) tried its best to make you think you had, by filling the cast with famous faces from some of those other (better) comedies.  They cannily plucked Tim Matheson and Stephen Furst from Animal House (Otter and Flounder, respectively), Dan Monahan from the Porky's saga (he was the virginal Pee Wee), and Sandy Helberg (fresh off bit parts in This Is Spinal Tap and Modern Problems). We'll just stir the players into a compound with a familiar-feeling story about an intercollegiate rivalry set during a white water rafting competition, one imagines father-and-son producers Sam and Lou Arkoff thinking, and the result will be alloyed comedy gold.
Well, that was the commercial instinct between the alchemical theory, anyway.  In practice, Up the Creek doesn't often rise above a beats-washing-the-car-or-mowing-the-lawn-on-a-Saturday afternoon time-waster.  But there are a few exceptions which make it worth that Saturday peek.
First, there's the cast.  While Matheson, Furst, and Monahan phone in performances that never stray very far from their familiar typecast wheelhouses (except for the fact that they're all at least a decade too old to be playing "college boys"), Helberg turns in a surprisingly funny second (third?) fiddle comic turn, blending nerdy geekiness with alcoholism as "Irwin."  It's at least an interesting variation on a stock character torn from an early 20th century Yiddish theater playbook (which becomes the punchline of a throwaway gag when the boys bump into a yamulked team from a Jewish university).  Once you realize that Sandy is the father of Simon Helberg, Big Bang Theory's Howard Wolowitz, the performance becomes revelatory, making it fun to see the comedians' genealogy so clearly traced in their performances.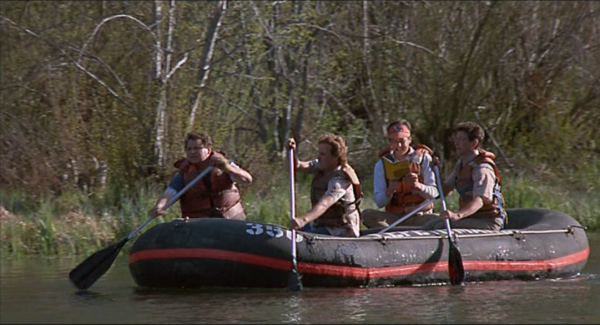 "Oh boy, this is great!"
It's also fun to spot Jennifer Runyon ("Heather Meriweather") as Matheson's character's love interest — she became much better known later in 1984 when she played the blonde co-ed Bill Murray attempts to seduce via ESP testing in his first scene in Ghostbusters (Richard Roeper also hilariously mis-estimated Runyon's future appeal, dubbing her the "next Marilyn Monroe," in an infamous, gushing-critic mash-note).  And long-time Hill Street Blues fans will be glad to know that James B. Sikking doesn't embarrass himself as the film's clenched-jawed villain.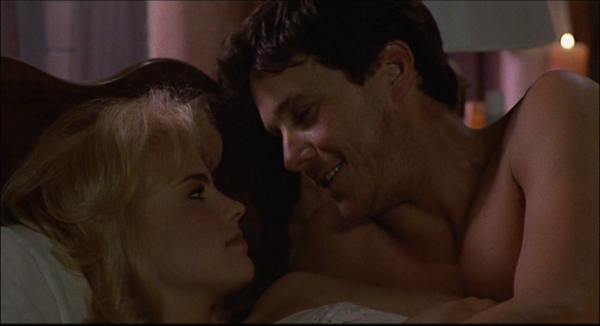 The Marilyn Monroe of the 80's meets the Tim Matheson of the 80's
Secondly, the dialogue is occasionally surprising, with flashes of wit that are beyond the basic generic requirements of Dumb '80s Horny Guy Comedy.  Writer Jim Kouf slips weird snippets of third-person narration and famous movie dialogue — often misquoted — into Matheson's lines, allowing him a little meta-commentary on the hormonal proceedings as they move along.  His fourth-wall-demolishing commentary belies Up the Creek's exploitation stoopidity, and reveals a more sophisticated writer with a flair for self-deprecation.  Unsurprisingly, Kouf would later become a TV and film superstar, best known around these parts as a co-creator of NBC's smash Portland-set supernatural series Grimm, one of a handful of landmark series that have created "Portland" in the contemporary popular consciousness (and we all know which show of that set that made the world most , uh, Portlandian).  Jim Kouf probably deserves a plaque or something somewhere around Oregon (though not even he would argue for a statue of himself for his efforts in Up the Creek, I bet).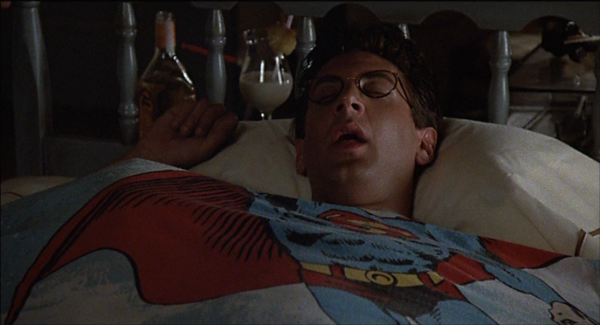 The Wolowitz doesn't fall far from the tree: Sandy Helberg, comic book geek.
And lastly: Up the Creek sure does make rafting down the Deschutes River look like a blast.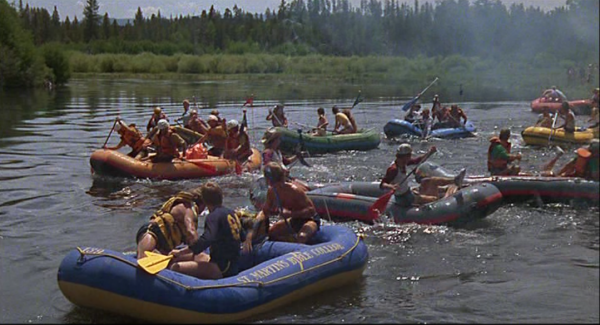 Lettering in Water Sports, "Up The Creek" style.
Of course responsible rafters (like the readers of this blog) know that it's always Safety First when facing a trip down the river.  The Bend Department of Parks and Recreation advises cautious decision-making to make sure that everyone in the water has fun, depending on skill level: when you're "midway down the floating corridor" of the Deschutes River, they explain, it's time to make a decision —"for those who want to keep it mellow," get out of the river and re-enter at McKay Park for a chill float.  If you're looking for adventure (and in my case, probable bruising, injury, and humiliation) head straight on through the Whitewater Channel.  Guess which route the collegiate competitors of Up the Creek take?   And while the cast often wears mandatory lifejackets (except young women, though, because of the visual interference with bikini tops — it's that kind of movie), the movie's rafters also come armed with cross-bows, missiles, explosives, and many, many cans of beer (strictly prohibited by Parks and Rec).
They're up the proverbial creek without a paddle, but that's no reason not to be armed to the teeth, right?  Set your expectations appropriately, and have fun with Up the Creek.
More fun:
Attention movie poster fans: The theatrical poster art for Up the Creek mimics some of Rick Meyerowitz's stunning caricatures of Matheson, Furst, and the rest of the gang in Animal House, but brings a more realistic style to the portraits and dramatic movement.  And perhaps Up the Creek's poster also conveys some love for Oregon's natural beauty too; after all, it was painted by the Astoria-born Dan Goozee.  Goozee also did the poster art for the Oregon-filmed TV movie Fire (another obscure movie, and another future archive raid).
The Up the Creek boys are defending the honor (such as it is) of their school, Lepotomane University.  Fans of flatulent French vaudevillians will recognize the allusion to anal impressionist Joseph Pujol, a unique artist whose performance was captured in 1900 by Thomas Edison (I know you're gonna click, so I'll wait).  Perhaps only true Up the Creek fans will know that Lepetomane U has its own Facebook page.  The fall semester is just beginning, so maybe it's not to late to matriculate?
Watch: Up the Creek, available on Video Treasures VHS and Vestron Laserdisc.  Oh, on MGM DVD too.
Written by Phil Oppenheim