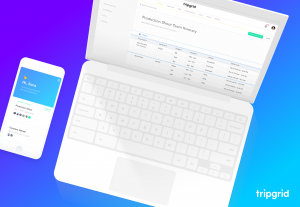 Tripgrid automates a large portion of the trip planning process, saving time while helping teams get completely organized.
"We started working early on with companies who coordinate travel in the production world, we realized it was an intense amount of work and no one was building tools to solve their problems. Tripgrid turned out to be an absolute game-changer for them," says CEO Jake Hoskins.
With large teams constantly on the road, most production companies employ full-time production coordinators to organize all the travel and logistics by building travel documents and call sheets and storing traveler details. According to Tripgrid, the process for most companies consists of tracking travel information and reservations in email chains then hand entering all the information into spreadsheets. Production coordinators are left constantly answering questions and holding everyone's hand.
Tripgrid has built a workspace using customizable team documents that streamline the entire process for these companies. It gives travelers complete transparency with a mobile view of the team's documents so everyone has exactly what they need on the road.
"Tripgrid makes it very easy to forward all my travel reservations," says Erica [Last Name], Production Coordinator of Leopard USA. "The info populates while I am working on something else, and done! No more copying, pasting, and hand entering data, and that is a crazy amount of time saved."
Tripgrid's workspace helps teams standardize all travel documents so they have an identical format across coordinators. It organizes crew travel profiles, getting information out of multiple spreadsheets and into simple templates that can be customized for any company. Production companies can now build travel documents on the go which means they don't have to look in a dozen different places to find the info that pertains to a particular shoot. Everything now has a home and is easy to find.
Chris Richardson, President of Warm Springs Productions stated, "I knew after viewing a demo of Tripgrid that it was going to revolutionize our travel process and it has paid off more than imagined."
For a closer look, check out Tripgrid and ask about a personal product demo at www.tripgrid.com.