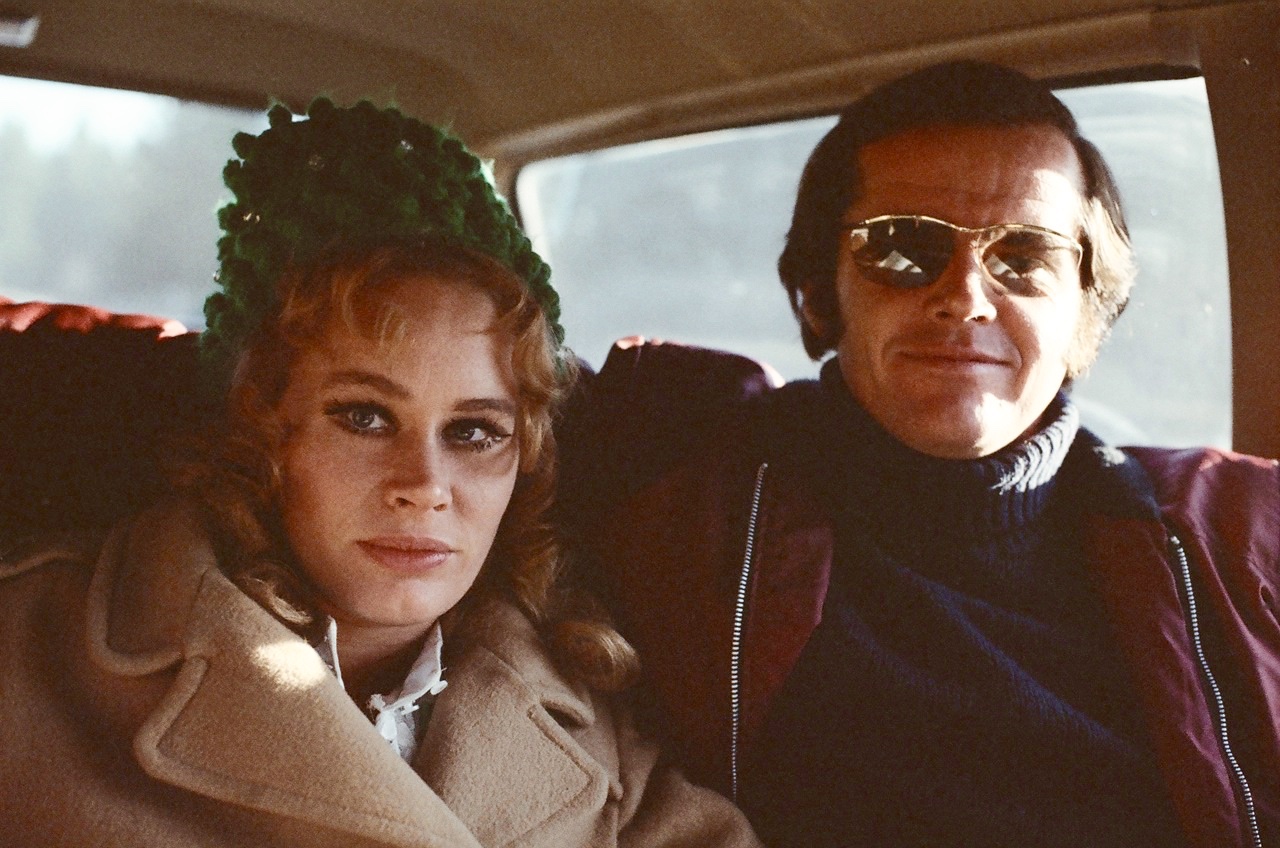 This is an excerpt from the photo book being written by Oregon Filmmaker Katherine Wilson:
50 Years of Oregon Film, from Hollywood to Cinematic Literary Voices 1968 -2018
Five Easy Pieces & Poetic Cinema: the 1st Oregon Film of Jack Nicholson
There is a quote I love from Jack Nicholson about the low budget existential westerns he made in the early 60's with Director Monte Hellman (Ride in the Whirl Wind & The Shooting) for Roger Corman: "Roger wanted some good Tomahawk numbers with plenty of Ketchup, but Monte and I were into these films on another level." From the American Film Institute's Interview 1994.
I love it because, in the late 60's and early 70's in Eugene, Oregon, we were also trying to do the same thing: make films on another level, by experimenting with 16mm 'shorts'. We would make a short film or shoot a short scene as long as the 'ends' of the Army Navy Surplus store's silver-nitrate film-stock pieces would allow us, similar to the way a Sonnet poem would only allow 14 lines. Otherwise, we needed to buy a very expensive Movieola to splice it all together.
Necessity is the mother of invention, we had to cut out all the extraneous fluff and get down to the emotional heart of our film. Inadvertently it gave Eugene the nickname of 'The Poetic Cinema Capitol of the World' by the Experimental Film and Poetic Cinema Guru from Colorado, Stan Brakhage. Movie Journal: The Rise of a New American Cinema, 1959-1971.
"Like in the nouvelle vague of France and elsewhere, the 1960s introduced a vibrant period of experimentation of the medium as well as narrative possibilities; the so-called movement often collided with established conventions while ushering in a bold new approach to them." Mariana Sabino: http://www.tasteofcinema.com/2014/10-essential-films-from-the-czech-new-wave/#ixzz4eqVuxvkt
This movement created the 'New Hollywood' 1969-1977, which first arrived in Oregon the fall of 1969. Theses films all seemed to have something in common. They seemed to be influenced by the German New Wave, the French Nouvelle Vague, and the Czech Miracle Artists such as Milos Forman, Vilmos Zsigmond and Laszlo Kovacs.  Laszlo was the Cinematographer on many of Jack's films: Hell's Angels on Wheels 1967. The Trip 1967. Psyche-Out 1968. Head 1968. Easy Rider 1969. Hell's Bloody Devils 1970. Five Easy Pieces 1970. Drive He Said 1971. The King of Marvin Gardens 1972. Then Laszlo came back to Oregon without Jack, for Getting Straight, 1972.
Ron Vidor, a protégé' of the world-renowned Czech cinematographers Laszlo Kovacs and Vilmos Zsigmond, was an Assistant Cameraman and my fellow Stand By Me (1985) crew member. And he had been to Oregon before. He told me that the Five Easy Pieces' infamous 'Chicken Salad' scene, shot at Denny's in Glenwood, Oregon, was a fluke.
"We were all driving up I-5, going on (up to) a location for the film, saw Denny's Restaurant and stopped to look at it. Bob Rafaelson, (the Director) said it was perfect, and within minutes we had permission to shoot. I had the feeling it was mostly improvised. When Jack swept the table with his arm, it all ended up on me, as I was in position as the focus puller for the camera." 
 And that is how it happened, on Thanksgiving Day, 1969, when movie star Jack Nicholson, Director Bob Rafelson, Actress Karen Black and the skeleton cast and crew were caravanning up I-5 through Oregon. They were on their way to Canada from California, following Cinematographer Laszlo Kovacs and Ron in a 1968 Mercury Monterey.
Back in those days, the only thing open on holidays was maybe a few 7-Elevens. And Denny's. It had a sign: 'Always Open'. So just South of Eugene they pulled right in, off of I-5.
The views from the franchise's windows were amazing, and matched other locations in Puget Sound and BC. If you look closely at this scene in the film, there are only a few cars traveling on I-5 that day in the background.
There is a mural in LA at Panavision of this incredible scene. Ron Vidor and Laszlo Kovacs posed in front of it, not long before Laszlo died in 2007. Ron says about that shot: "Laszlo would over light the interior to match the far exterior, opening up the stop and setting the balance so he could Iris Down all the way. Laszlo was my mentor, and hired me because he knew how fast I was, and that they wouldn't need a loader or a 2nd assistant camera guy to haul all the way down the road. But I never got to sleep, loading film all night."
Someone must have called Governor Tom McCall's Film Commissioner Warren Merrill (Oregon's first) because he's in the photos Ron shot. He was probably also the one who let them know that the only place in town to get a good Thanksgiving Dinner was at the Eugene Hotel.
 The Eugene Hotel was infamous for being a Eugene artist's gathering place. No doubt Jack ended up hanging with some of them. They stayed 5 days in Eugene, shooting pick-up shots: a bowling alley, drive-by shots of the car, (their 1968 Mercury Monterey was the picture car, camera car and camera mount) on the old Route F, now Highway 126 to the coast, through a covered bridge by Lowell on Highway 58, and by a wigwam on a body of water, under some train tracks, all between Lowell and Florence, Oregon. But while they were still at Denny's, we are pretty sure they shot the scene of a woman hitchhiking. Jack's housekeeper and chef, Helena Kallianiotes, was the hitchhiker, and is also in the Denny's 'chicken salad sandwich scene.
A few years before, the Poetic Cinema Triumvirate of Jack Nicholson, Dennis Hopper and Peter Fonda (who wrote Easy Rider as a modern day Western) had already shot two of the trilogy, which began with The Trip 1967, and followed up with Psyche Out 1968. (Laszlo would go on to shoot all three of them.)
So, a year later it wasn't surprising that Jack and Laszlo would show up and film the third of the trilogy, Drive He Said, 1970, here in Oregon, especially because of the friendships they made on Five Easy Pieces.
You can see many Oregon artists and poetic cinema filmmakers in the movie, like multi-media artist Ulysses Chang. I made my first 16mmm film "Untitled Girl' 1969 as an actress, for Uly with Mike Hagen (Charter Member of The Merry Pranksters from Pendleton, Oregon) who was the 16mm cameraman for Ken Kesey's famous bus ride to New York in 1964 but this time he was a sound man. They had an Arriflex (and Nagra) just like Laszlo, only 16mm.
"The Arriflex 35 also played a key role in what has been called The Hollywood New Wave… (films) being made by a small, interrelated group of innovative filmmakers, working with lightweight equipment, small crews, and comparatively low budgets (who) take their films very seriously. Kovacs was at the heart of this Hollywood Renaissance." From Norris Pope's book 'Chronicles of a Camera: The Arriflex 35 in North America.'
There were others: 16mm Cinematographer David Norris, whose dream was to work with Cocteau, but who ended up in Oregon's 'We play in the streets" Transportation department, for decades of Oregon film with his old friend, sculptor, painter and my husband, Philip Krysl.
There are also friends and other people I knew from Eugene, mostly actors: Ken Hamilton, James Aday, Nick Jones, and Kenneth Payne. And my old film friends like Mike Dilley, was a stunt man; Peter Roscoe was a writer who would become a part of our Oregon Film Factory gang in the 70's; and HJ Langtry, my dorm buddy, who dressed as a campus radical with a bandolier of bullets across his chest.
After these films, (and also the ones in the next chapter of my forthcoming book, 50 years of Oregon film: From Hollywood to Cinematic Literary Voices, 1968 – 2018) Jack would fly or drive into Eugene often for dining at The Country Inn; he would buy the film rights to Oregon Books; he would welcome Oregon producers to his home on Mulholland to discuss their screenplay projects with them, such as logging heir and film producer Michael Murphy, who wanted Jack to play a Pinkerton Detective in a true Oregon story called The Brothers DeAutremont.
Jack was also very kind and sweet, and would share newly discovered vinyl albums, like JJ Cale's Naturally, would invite my friends and I to his parties in Salem during Cuckoo's Nest, one for his guest of honor, Hal Ashby (who I worshipped) and he helped me heal a broken heart; introduced me to Music Mogul Lou Adler; gave me a ride in his convertible VW while singing a popular Zombies song: "Time of the Season"; let me make a poetic 'toast' at his dinner party with Diahann Carroll and Bernardo Bertolucci; and let me stay in his daughter Jennifer's room, at his house, when I was in LA.
He would help a high school friend, the young actress Julia Anne Robinson, (from South Eugene High School) to get a leading role in his King of Marvin Gardens; he helped local KEZI's editor Paul Machu's sister, Mimi Machu, who worked with Jack as an actress on several films, become an editor; and he would graciously put up with me and still take my phone calls for the last 42 years.
He loved our Cinema 7 Film Art House, was on its mailing list for 10 years, said it was one of the finest in the world. He had initially heard about it from Louise Fletcher, who came to see 'The Long Goodbye' one Sunday during filming Cuckoo's Nest up in Salem. He was a friend with Oregon filmmakers like Skip Cosper, his first AD for Drive He Said, who lived in a school bus at McKenzie Bridge, then built a Dome House there. He loved the Oregon way of 'independent thinking.' He loved Oregon's Literary Traditions.
Jack, because of all this, I hereby name you as an #OregonMade Filmmaker in honor of your 80th Birthday on April 22.