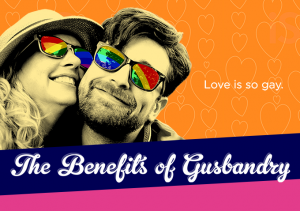 Voted "Best Local Web Series" by the readers of Willamette Week and completely made in Portland by Portland people, digital series The Benefits of Gusbandry can now be BINGE WATCHED on Amazon Prime and Seed & Spark Cinema!  Stream, review and share today!
Dive into the laugh packed 77 minutes of Season One, and see why the NY Times praised the show for its "sharp writing and spirited performances…" –  lauding the season finale as "…A delirious 16 minute masterpiece of pretension puncturing." – READ MORE
Written and directed by local filmmaker/musician Alicia J. Rose, co-written by comedy powerhouse Courtenay Hameister, and produced by Lara Cuddy,  The Benefits of Gusbandry offers a fresh and funny take on life as a 40 year old woman in Portland, focusing on the misbegotten adventures of Jackie (Brooke Totman) and her Gusband (Gay Husband/nee gay bff)  River (Kurt Conroyd)  – all based on Alicia's own truly inspired (and slightly insane) real life experiences.
Where else in comedy would you find the main characters on a blind date at the glory  holes of Fantasy Video, in line for sea urchin semen artisan ice cream at Salt & Straw, or dog piling  each other at a queer art performance at Disjecta?  Much like NYC in Seinfeld or Broad City,  Portland itself turns into a main character in the show.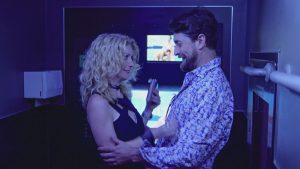 "(Brooke) Totman is straight-up comically delicious. She's Kristen Wiig with a sprinkle of Leslie Mann when they're both a little drunk, tired and horny. The series is personal, it's hilarious as hell, and it delves into the crevices of friendship. This is Will & Grace resurrected—I find it funnier…Totman and Conroyd's chemistry is charming."  – PASTE MAGAZINE  READ MORE
"The story of their friendship is just as awkward as it is endearing, like a more honest Will & Grace." – ENTERTAINMENT WEEKLY MUST LIST
The Benefits of Gusbandry had a successful first season run on YouTube, garnering lots of fans and press on the way – only recently  making the leap to paywall streaming via Amazon and Seed & Spark November 15.
The show is CROWDFUNDING NOW  to make 3 new episodes of the show through December 15.  There are fabulous perks available – especially for PDX people – including show tickets to Wonder Ballroom, Doug Fir and Mississippi Studios, dinner for 2 at Mothers Restaurant, wine tasting at Elk Cove, gift cards to Fantasy Video, hotel rooms at The Jupiter Hotel, and LOTS MORE – your HOLIDAY SHOPPING starts here!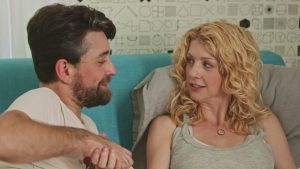 The Benefits of Gusbandry is micro-budget PORTLAND production that is a labor of love made by a diverse and gender balanced cast and crew.   The new episodes on the slate look to be the funniest and most politically ridiculous yet – the story arc culminating in a comedy of reproductive errors at a Planned Parenthood.
Help this Portland made media flourish and grow into a sustainable production!
CONTRIBUTE TO THE BENEFITS OF GUSBANDRY TODAY!