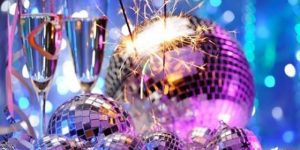 A Benefit for Southern Oregon Film and Media (SOFaM) 
Come celebrate the end of the year and support the southern Oregon film industry with the Martini Shot New Year's Eve Party!
The Martini shot is a Hollywood term that describes the final shot set-up of the day so named because "the next shot is out of a glass," referring to a post-wrap drink.
So grab your party hats and your noisemakers and join us for the best New Year's Eve Party in Southern Oregon!
What's Included:
Your overnight package includes: two tickets to the party starting at 8:00pm, party favors and noisemakers, Chef's Special selection of Hors d'oeuvres during the party, and access to premium cash bar with specialty drinks.
Live music in the Stardust Lounge featuring Not Too Shabby. At midnight enjoy a complimentary glass of champagne and a balloon drop!!
Take the elevator home to your spacious suite in the Ashland Hills Hotel and Suites, and start the New Year off with a leisurely breakfast and late check out on January 1, 2017.
Tickets:
A Suite/Double Lodging and Celebration is $299.00 per couple + tax (Hotel check-in begins at 4:00pm and includes Overnight Suite Accommodations for two on Saturday, December 31, 2016. The Party begins at 8:00pm).
Individual tickets for party and complimentary glass of champagne at midnight are $99 per person without hotel accommodations, $199 with accommodations.
Sponsored by Elsewhere Films
DATE AND TIME
Sat, Dec 31, 2016, 8:00 PM –
Sun, Jan 1, 2017, 12:30 AM PST
LOCATION