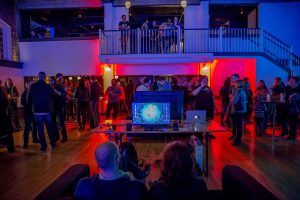 Free & All Ages
Play games, meet developers, celebrate Portland games!
Have dinner and drinks with us to raise money for the PIGSquad nonprofit!
Join the Portland Indie Game Squad in an evening of games, special announcements, and community fun as they celebrate 2016 and kick off their end-of-year pledge drive for the nonprofit. PIGSquad is the Charity of the Day for Oregon Public House: A portion of all food and drink purchases on Monday, December 5th (including lunch!) will benefit the Portland Indie Game Squad. In addition to having games available for play, they will be revisiting their year and hosting a PIGSquad organizer Q&A session for a "Town Hall" meeting.
11:30am-6pm: Restaurant Open & Games Downstairs
6pm: Party Starts in Ballroom
7pm: Town Hall
8pm: Party Resumes
10pm: Party Ends
Attendees are required to follow the PIGSquad Code of Conduct. Learn more about the Oregon Public House here.
Monday, December 5, 2016
6:00pm 10:00pm
Oregon Public House 700 Northeast Dekum Street
Portland, OR, 97211