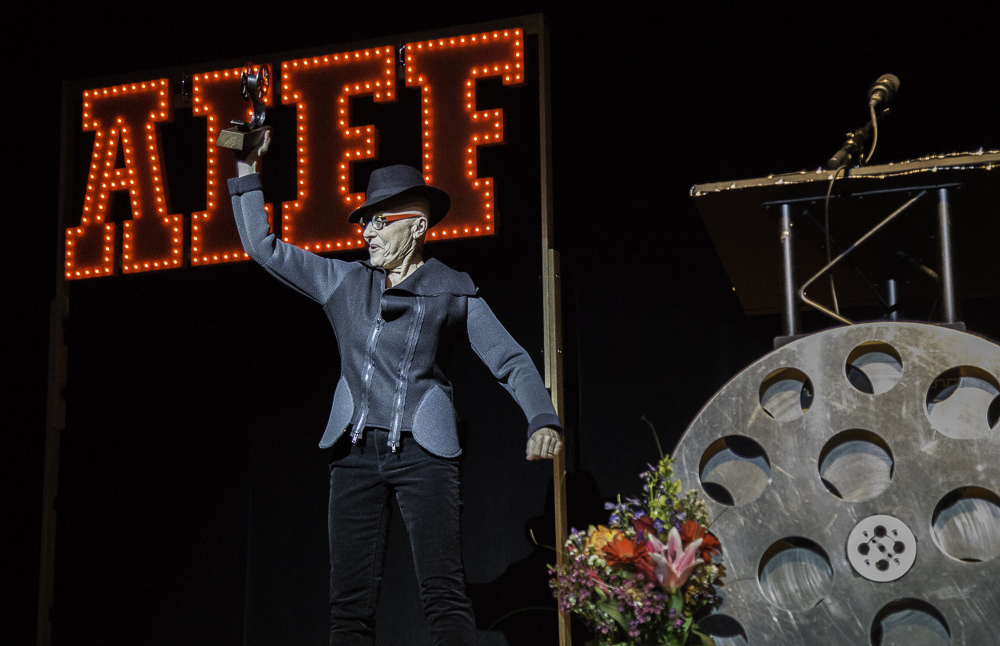 The Ashland Independent Film Festival announced its highly anticipated juried and audience award-winning films for work screened at the 15th annual festival, April 7-11, 2016, where films made in Oregon and the Pacific Northwest received a warm welcome and took home top awards.
Bastards y Diablos, with several cast and crew members who hailed from nearby Medford, Oregon, swept both the juried and audience awards for Best Feature. The film is a voyage of self-discovery and reconciliation for two estranged half-brothers told in an unconventional manner. It was shot entirely on location in Colombia, on a budget of only $25,000. The co-star was Dillon Porter, who grew up in Medford.
The documentary Mothering Inside by Portland director Brian Lindstrom, won the audience award for Best Short Documentary, and the audience award for Best Feature length documentary went to Voyagers Without Trace, which was directed, produced and written by Ian McCluskey, of Portland. The audience award for Short Film was awarded to The Stairs, which co-starred Oregon Shakespeare Festival (OSF) actor Anthony Heald.
"As an Oregon filmmaker, I have always wanted to bring a film to the Ashland Independent Film Festival, which has built a reputation as a world-class festival, attended by engaged audiences," McCluskey said.  "We were thrilled to be invited to share Voyagers Without Trace with audiences that love arts, history, and the outdoors. We felt the energy in the small, historic Varsity Theater, with every ooh, aww, chuckle, and gasp. A film truly comes alive when experienced with an audience. Each screening was followed by lively Q&As, and folks coming up to us throughout the festival to share their own stories. The heart of making an independent film is in its collaborative spirit, and that spirit is fully realized when shared with the audiences of Ashland."
Other Pacific Northwest films also received warm receptions at the Ashland film festival, including Honey Buddies, recently renamed Buddymoon, which was shot in the Columbia Gorge, and proved so popular at the film festival that a second screening was added.  The film co-stars David Guintoli of the Portland-based TV series Grimm. Other locally-connected films include: The Pearl, a documentary that followed four people from a Pacific Northwest as they transition from man to woman, Boone, a documentary about an organic goat farm in the Little Applegate Valley of Southern Oregon, the short Closure included former OSF company actors David DeSantos and Stephanie Beatriz, while the short Damn, What a Dame was made by students of the Southern Oregon University Film Club, and the executive producer was their teacher Andrew Gay.
State support even extended to awards presented to individuals. New this year to the Ashland festival was an award for an emerging female filmmaker, the Juice Award, choreographer Celia Rowlson-Hall, who made her directorial debut with the feature film MA, received the Juice Award for emerging women directors. The Juice Award goes to a first- or second-time female director, and is supported by Tangerine Entertainment and the Faerie Godmother Fund of the Oregon Community Foundation.
The complete list of award-winning films follows:
JURY AWARDS
BEST FEATURE
Bastards y Diablos
BEST ACTING
Five Nights in Maine
Honorable Mention: A Light Beneath Their Feet
BEST SHORT FILM
Killer
Honorable Mention: El Tigre
LES BLANK AWARD: BEST FEATURE LENGTH DOCUMENTARY
Hooligan Sparrow
Honorable Mention: The Birth of Saké
BEST EDITING: FEATURE LENGTH DOCUMENTARY
NUTS!
Honorable Mention: In Pursuit of Silence
BEST SHORT DOCUMENTARY
100 Years Show
Honorable Mention: Greenwood
AUDIENCE AWARDS
VARSITY AUDIENCE AWARD FOR BEST NARRATIVE FEATURE
Bastards y Diablos
ROGUE CREAMERY AUDIENCE AWARD FOR BEST FEATURE LENGTH DOCUMENTARY
Voyagers Without Trace
JIM TEECE AUDIENCE AWARD FOR SHORT FILM
The Stairs
BEST SHORT DOCUMENTARY
Mothering Inside