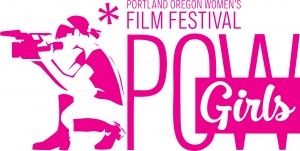 POWGirls announces four workshops for 2016!
Winter Workshop: INTRO WORKSHOP, January 22 + 28-31, 2016
Spring Break Workshop: MAKE A SILENT FILM, March 21-25, 2016
Summer Workshop I: ADVANCED WORKSHOP, July 25-29 + August 1-2, 2016
Summer Workshop II: INTRO WORKSHOP, August 8-12, 2016
POWGirls started in March 2014 as a weekend workshop for six girls. In 2015, POWFest and MetroEast Community Media partnered to host three filmmaking workshops serving over 35 girls. Watch our past productions here. We will host four or more workshops in 2016–one in the winter, one during spring break and two during the summer.
The instruction portion of POWGirls consists of media production training; pre-production (collaborative story creation, storyboarding) camera operation, audio recording, and post-production using industry-standard equipment.
Our mission is to help girls 15-19 realize their power, creativity and voice in media production and encourage them to explore opportunities as future media-makers. We want to encourage girls to be creative, tech-savvy leaders who will help realize gender equity in media industries. We want to foster the POWER of WOMEN in MEDIA. POWGirls is a trans* inclusive organization, supporting all girls in their media education. It is POWFest's goal to be inclusive of all women's voices, regardless of race, class, age, religion, ability, sexuality or gender expression.
POWGirls is made possible with support from The Faerie Godmother Family Fund and MetroEast Community Media.
To learn more about POWGirls and to register for all workshops, go to www.powfest.com/powgirls/.
Watch POWGirls films here!
****
Tara Johnson-Medinger, Executive Director
Portland Oregon Women's Film Festival (POWFest)
[email protected] / 503.267.1126