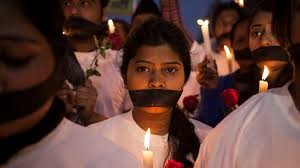 INDIA'S DAUGHTER is the story of the short life,  and brutal gang rape and murder in Delhi in  December 2012 of an exceptional and inspiring  young woman. The rape of the 23 year old medical  student by 6 men on a moving bus, and her death,  sparked unprecedented protests and riots  throughout India and led to the first glimmers of a change of mindset. Interwoven into the story line are the lives, values and mindsets of the rapists whom the film makers have had exclusive and unprecedented access to interview before they hang. The film examines the society and values which spawn such violent acts, and makes an optimistic and impassioned plea for change. This film contains references to Sexual Assault, viewer discretion is advised.
The screening will take place on Monday May 25th, 7pm at The Clinton Street Theater. Tickets are available for a suggested donation of $5-$10. Any amount over $5 will go directly to support the Portland Women's Crisis Line. This event is sponsored by Women Make Movies.
Volunteers from PWCL will be on site to support audience members who become triggered by the content of this film.
Doors open at 6:30pm and no one will be turned away due to lack of funds. Attendees will also be entered into a drawing for a POWFest Membership!
https://www.youtube.com/watch?v=YROBVxk17cM
****
POWMonthly is a series dedicated to showcasing films directed by women. It provides year-round visibility to the wide range of high quality, thought-provoking films women create, and gives audiences an opportunity interact with the filmmakers. By doing so, POWMonthly supports the careers and leadership of women in film.
Screenings take place on the fourth Monday of every month at Clinton Street Theater and proceeds fund POWFest's efforts to increase the number of women in leadership roles in media by providing resources, education and visibility.