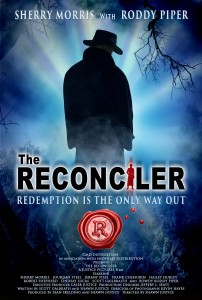 The feature length motion picture Reconciler is on its way to Cannes! Produced and distributed by native Northwest companies, the feature film Reconciler has been picked up for international distribution and will be showcased this week at the internationally renowned Festival de Cannes, by Black Wolf Media. Reconciler was produced in Oregon by Justice Pictures, in association with IMD Films — both native Northwest companies.
"Justice Pictures is extremely fortunate to have secured a relationship with IMD Films and Black Wolf Media to distribute Reconciler to the broad and growing faith-based audience. I see IMD Films and Black Wolf Media as the perfect partners to take our films to market through their extensive relationships with major retailers and outlets around the world." — Shawn Justice
Director of Reconciler and head of Justice Pictures, LLC.
Reconciler stars Sherry Morris (Book of Ruth) along with world-renowned wrestling star and multi-talented entertainer "Rowdy" Roddy Piper. A true suspense film, keeping audiences guessing to the end, Reconciler is designed not only to entertain and thrill, but also to provide a message of hope and encouragement regarding the broken relationships in our lives.
"We are very proud to bring this film to market, and incredibly excited that it will be presented to international buyers at Cannes by Black Wolf Media. We believe Reconciler is one of the first feature films to be fully funded, produced and distributed entirely by native Northwest companies, and we can't wait to help make and distribute more films originating in the Pacific Northwest."— Greg Beber,CEO, IMD Films, LLC
In addition to Cannes, Reconciler will be opening soon in domestic independent theaters, then will be placed exclusively in Walmart stores, available on DVD October 6, 2015, with additional retail and online outlets to follow.
Next up for Justice and IMD Films: Going the Distance, a faith-based film approved for teens by the Dove Foundation (www.dove.org), which awarded the film 5 out of 5 Doves. Coming soon to a theater, store, and computer near you!
Watch the trailer. https://vimeo.com/127217258