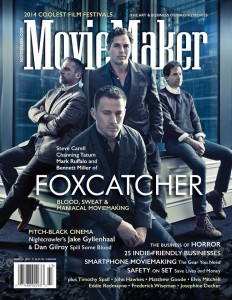 MovieMaker Magazine's Fall 2014 issue hit newsstands around the U.S. and Canada this week. It presents MovieMaker's annual list of the 25 best cinematic celebrations in the world, as selected by people like critic Elvis Mitchell, Emily Best of film site Seed & Spark, Thom Powers from the Toronto International Film Festival and the Sundance Doc Club, Dennis Dembia of Rogers & Cowan,  Josephine Decker from Filmmaker magazine, and Karla Rodrigeuz with Alamo Draft House.
Portland Film Festival has made the list in its second year out along with Austin Film Festival, SXSW, Seattle International Film Festival, Hong Kong Film Festival and others.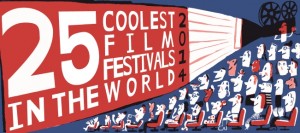 "This is a huge honor," says Josh Leake, co-founder and Executive Director of the local non-profit, "and it's all down to the dedication of the Portland film community and our volunteers, not to mention our partners—OMPA, Women in Film, Willamette Writers, Canon, Prophoto Supply, Portland Parks & Recreation, Portland Mayor Charlie Hales, and the Oregon Film Office to name just a few. Without these folks our festival would not have reached so many people or touched them so closely."
In 2014, Portland Film Festival hosted over 236 filmmakers representing more than 145 films, including 30 locally produced projects. With about 1200 other filmmakers who joined in the seven-day festival, the festival is one of the largest in Oregon. An online screening partnership with Twitch that got over 500K views also means that it can boast one of the largest audiences in the state.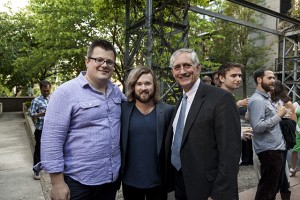 Mayor Hales opened the festival proclaiming Portland as the "City of Film." With over 35 bands performing during the week, networking parties every day, classes, workshops and panels, as well as movies, the festival promotes Oregon as a place of both education and innovation in filmmaking.
Next year's festival has already been scheduled for September 1-7, 2015. The festival is now registering volunteers. For more information go to portlandfilmfestival.com/volunteer
MovieMaker's Fall 2014 issue can be found at major U.S. and Canadian newsstands and retailers, including Barnes and Noble. (64 pages, U.S. $6.95) It was distributed at this month's American Film Market and AFI Fest, presented by Audi, and will be distributed at next month's International Film Festival Summit.
The issue is also available for digital download via iTunes and Pocketmags, accessible on all mobile devices. The list of the 25 Coolest Film Festivals in the World is available online at: http://pdx.to/cool
PORTLAND FILM FESTIVAL
Portland Film Festival is a non-profit organization dedicated to nurturing filmmakers and audiences, and to celebrating the power of a good story.  The festival focuses on the people, ideas, technology, skills and artistry behind filmmaking and provides both entertaining and educational opportunities to filmmakers and the public. The festival is held each year during the week leading up to and including Labor Day. For more information go to portlandfilmfestival.com