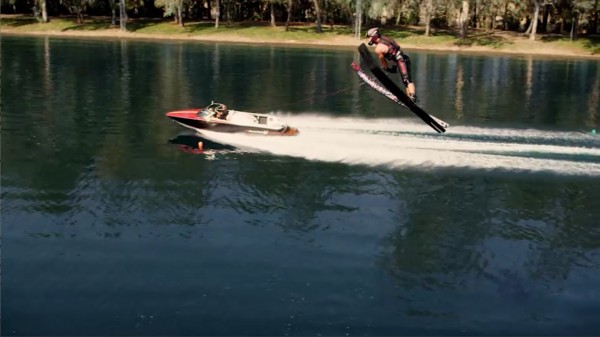 DIGITAL ONE, a premier post-production studio encamped on the banks of the Willamette River, has been honored by the Association of Independent Commercial Producers at the AICP Show: The Art & Technique of the American Commercial, for it's sound design on one of "the best commercials of the year".
The award-winning web film for the 2014 MasterCraft ProStar titled "Mission 04: History Is History," was revealed at the AICP Show at the Museum of Modern Art in New York, NY, where it will also be archived in the Department of Film at The Museum of Modern Art until the end of time. Following its premiere at MoMA, "Mission 04: History Is History" will tour museums and cultural institutions around the world as part of the AICP Show Reel.
Produced by Nemo Design and shot, edited, and directed by Bump Films, the three-minute film features the ProStar in Phantom slow motion, complete with ski jumpers and slalom skiers who seem to defy the laws of physics. DIGITAL ONE sound designer Chip Sloan began working on the project early in pre-production. Says Sloan, "(Director) Mark Bame came to me early on wondering if we could capture the feeling of being out on the water without using a music track. Just the growl of the engine and the sounds of skiers carving through the water." It was a challenge Sloan was happy to tackle.
Sloan began with high-quality location audio. "We talked through how best to mic the boats, both the vintage one and the new ProStar, to really capture the signature sounds." To this, Sloan then added precise sound design to create an intimate, layered experience. "In the slow-motion section, I augmented the thrum of the hull on water with a kind of multi-part drone that I could control, dialing up or down various voices to subtly change the mood." The result is a shining example of how good planning, strong partnership, and a lot of careful craft can result in stellar sound design that becomes part of the storytelling in a subtle, natural way.
In addition to being honored by the AICP for work completed in 2013, Sloan also received an AICP Award for Sound Design in 2012 for his work with Nike.
View the award-winning spot here, and browse the entire AICP archive of current and past winners at AICP.com.