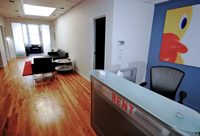 Portland, Or. – BENT Image Lab, http://www.bentimagelab.com the internationally award-winning animation and visual effects company, has opened a new office in New York City. Coming on the heels of its expansion into Spain, the thriving studio specializes in all forms of animation including CG, stop motion, 2D as well as VFX for TV and film, live action projects and post production. The growth is fueled by BENT's strong commercial roster, its move into long form programming, and its expansion into the digital markets.
"We are thrilled to be opening an office in New York City," says BENT CEO and Executive Producer Ray Di Carlo. "With our increasing workload we felt this was the right time to expand. New York is one of the most important cities in our industry and building a presence there will allow us to cement partnerships with the leaders on the forefront of advertising, technology and entertainment."
BENT's Executive Producer and Vice President of Production Tsui Ling Toomer will head the New York office with a focus on commercial work and long form programming development. Toomer, who was recently promoted to oversee new business at BENT will split her time between New York and BENT's headquarters in Portland, Oregon. BENT will collaborate and share its office space with the music and audio post production wizards at Big Yellow Duck, located on the 12 floor at 62 W. 45th Street in New York.
"BENT's ability to produce great work and our creative diversity have helped us to thrive in this volatile industry," says BENT Partner and Director Chel White. "Our motto is never twice the same creative solution, which allows us to be comfortable working outside of the box, growing into areas that might normally intimidate. We attract and produce projects in new fields we couldn't have dreamed of ten years ago."
The studio's slate of projects has flourished to include a long form computer animated pilot for Hallmark Channel, an augmented reality R&D project for long time client Taxi 2, promotional webisodes for networks MTV and CMT and an original animated web series from Director Rob Shaw. In addition BENT has expanded its artistic prowess by developing an in-house design group headed up by Designer/Director Josh Cox.
In connection with its digital services, the studio has been developing photo-real food animation and adding to its technical repertoire with a new photogrammetry stage. This facilitates precision accurate 3D models/textures of people and objects, most recently used to create CGI fruits and vegetables for the Raley's Family of Fine Stores campaign https://vimeo.com/88703846 and CGI people and elements for a Coca-Cola Olympics spot https://vimeo.com/87625429.
In January of this year, BENT announced its opening of a Spain office headed by Creative Director Javier Leon. "Javier and his team bring with them a fresh approach and creative flair, an exciting addition to our team," says BENT Partner and Director David Daniels. The Spain office serves BENT's European clients and extends its production capabilities around the clock and around the globe.
In September 2013, BENT partners Ray Di Carlo, David Daniels and Chel White launched BENT's emerging digital media and entertainment group with CafeFX co-founder Jeff Barnes. This group focuses on cutting edge Augmented Reality, digital advertising and entertainment and special venue experiences for glasses, smart phones, tablets and other location based devices.
BENT's many clients include such well-known brands as Starbucks, Nissan, Verizon, Nike, Adidas, Koodo Mobile, Microsoft, Coca-Cola, Tetra Pak, Chip's Ahoy as well as agencies BBDO, Ogilvy & Mather, Saatchi & Saatchi, Leo Burnett, Euro RSCG Worldwide and Publicis. BENT also produced long form animation specials for Hallmark Channel and IFC's Portlandia, visual effects for NBC's Grimm and film directors Todd Haynes and Gus Van Sant.
BENT Image Lab New York
62 W. 45th Street
12th floor
New York, NY 10036
917/679.1228
BENT Image Lab Portland
2729 SE Division St
Portland, Or 97202
503/228.6206