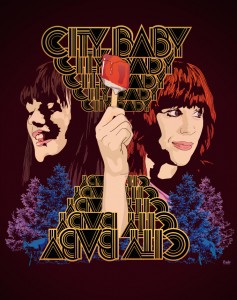 Salad Days LLC is excited to announce that David F. Morgan's feature film CITY BABY will be  available for online rental and purchase via digital entertainment curator FilmBuff. Look for  it on iTunes – http://bit.ly/1qYrocl – and all other leading VOD platforms beginning April  22nd, 2014.
CITY BABY is a Portland-centric coming-of-age story about a group of meandering 20-somethings trying to find meaning in the new world of adulthood. CITY BABY features live  performances by Glass Candy and  STRFKR/Starfucker, a soundtrack of local Portland bands  including Chromatics and The Helio Sequence, as well as a cameo from musical frontman  Stephen Malkmus (Pavement).
An updated REALITY BITES for the Me Generation, CITY BABY ruminates on themes of  love, class, and contemporary youth subculture. CITY BABY follows Cloey, played by  Benesh (PORTLANDIA, RID OF ME), who is reluctantly plucked from her party-girl lifestyle  and forced to deal with her real life. Pressure from her dad (Daniel Baldwin – TREES LOUNGE) to find a job, her best friend Paige's (Jillian Leigh – A BIG FAT LOVE STORY) new relationship driving a wedge between them, and a balancing act of two romances with an aging rocker (Andrew Harris – SWEAT, LEVERAGE) and a yuppie ad agency guy (Richard Keith – GREYS  ANATOMY, VERONICA MARS) all weigh heavy on her young heart.
MEDIA CONTACT
Cora Benesh, Producer
971-255-3912
http://www.citybabymovie.com
*******
"Pungently captures [Portland's] arty, hipster milieu… a striking performance by Cora Benesh"
Frank Scheck, The Hollywood Reporter
 "A well-made unpretentious indie, solid picture bolstered by the cast and unobtrusive direction."
Mark Zhuravsky, Indiewire
"Dreamy tale of beautiful people problems, a loving portrait of an obnoxious culture."
Sarah Mirk, Bitch Magazine
"A surprisingly excellent movie and well worth seeing."
Amy R. Handler, Film Threat
"Turns a refreshingly critical eye on the city's most frequently exported stereotypes.
There's real social commentary and insight here."
Allison Hallett, The Portland Mercury