Join us on Wednesday, April 30th at 7pm at the Mission Theater in NW Portland!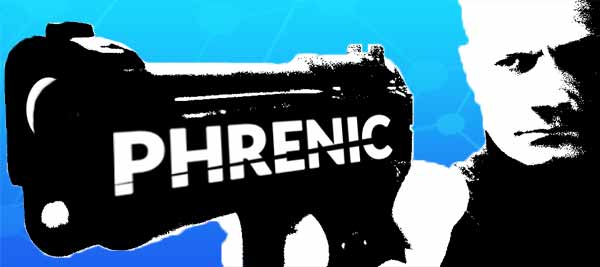 Free Admission! Add to calendar: iPhone/iCal | Google | Facebook | Outlook | more options
One year ago, Phrenic launched in the App Store and became the first iOS thriller that users could watch, read, and play. This cloning thriller–created in Portland–is told using episodes, mobile games, choose-your-own-adventure stories, social media fiction and more.
Most people don't need to think about transmedia–they already experience it through Star Wars characters or Marvel superheroes that crossover into different movies, comics, games and books. But as audience expectations change, independent storytellers now need to consider how their creative work can expand to all of the mediums and devices where people discover entertainment. It's not just telling a story, it's building a storyworld.
Phrenic's one year anniversary party will show how this indie iOS thriller came to life and how its flexible storyline allows it to expand anywhere. The event will also highlight a few Oregonians involved in innovative storytelling.
This will be an interactive event that includes:
Free Giveaway! Phrenic trading cards for the first 100 attendees
Theatrical performance by a character from Phrenic
#GoCloneYourself: Anyone can submit a clone confessional video that will be shown on the big screen  (Submissions due April 27)
Presentations about immersive storytelling from:

Doug Kenck-Crispin is known for diving into the seedier side of Oregon's history with his Kick Ass Oregon History podcast. Find out how he uses fan-created content, such as dioramas and haikus, to complement live storytelling events.
Mercedes Rose produces and stars in The Haunting of Sunshine Girl, a YouTube series with over 110K subscribers and 60 million views. She'll talk about building a fictional reality online that fans want to live in.
Nicholas de Wolff is the Executive Director of the Oregon Story Board, a new non-profit focused on supporting and building companies in Oregon that work in the digital storytelling space. He'll do a Q&A.

Premiere of new Phrenic episodes and the launch of the new version of Phrenic iOS app
Other surprises!
Phrenic Synopsis: In seven days, Alison will kill her husband. A creepy doll talks to her, paintings come alive before her eyes, and her mirror reflection warns her of danger. She's either on the edge of mental breakdown or the cusp of a revelation that will change her world forever.