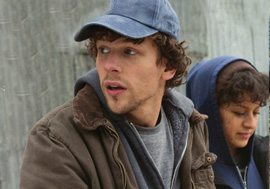 "Night Moves" will be opening May 30th at the Angelika Film Center in New York, most likely followed by openings in Los Angeles and Portland before playing other cities nationwide.
The film will also be screening in advance of the release date, at the Tribeca Film Festival (April 21st, 24th and 27th), as well as at a few other U.S. festivals.
"Night Moves" was shot exclusively in Southern Oregon.  The film revolves around radical environmentalists that set in motion an eco-terror plot that creates serious moral consequences.   "Night Moves", world premiered at Venice,  was honored in 2013 with the Deauville American Film Festival's Grand Prize and also played at the Toronto International Film Festival 2013.
"Night Moves" was written by Kelly Reichardt and Jon Raymond ("Mildred Pierce", "Meek's Cutoff", "Wendy and Lucy") and Executive Produced by Kim Saerom, Brett Cranford, Lourenço Sant'Anna, Alejandro De Leon, Todd Haynes, and Larry Fessenden, and starring Jesse Eisenberg  ("The Social Network"), Dakota Fanning ("The Secret Life of Bees"), and Peter Sarsgaard ("Blue Jasmine").