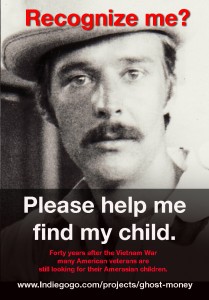 CONTACT: Lawrence Johnson (503) 754-3456
Email: [email protected]
Portland, Oregon – Lawrence (Larry) Johnson, known for award-winning documentary films STUFF and HAND GAME, has told many stories through his films, but has been haunted for over 40 years by his own: When he was in the Army in Saigon in the 1970s, he fell in love with a Vietnamese woman named Candy, and when they split at the end of the war, she may have been pregnant with his child.
Funded by a fellowship from the Regional Arts and Culture Council, Johnson and a film crew embarked on a journey to Saigon in 2012 to find out the truth about Candy. This search led him down unexpected paths, into the continuing
aftermath of the Vietnam War and into the lives of Amerasian children wanting to reunite with their fathers, knowing all the while that time may be running out.
On March 12th, Johnson began a campaign to raise funds for a third trip to Vietnam that will allow him to complete this important film, titled GHOST MONEY. Johnson explains, "The film started out as a love story and a war story,
but it has broadened to become the story of the thousands of children who were born during this conflict and have lived with abandonment — and sometimes even persecution — ever since.
"I know there are other Vietnam vets like me who, as we have gotten older, are determined to reconnect with our pasts. I also know from personal experience that we don't have a lot of time left if we want these reunions to happen," says
Johnson.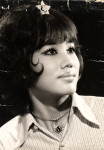 During the war, Johnson worked in Saigon in the early 1970s as an entertainer for Command Military Touring Shows, playing drums and arranging entertainment for the troops. While living there, he shot hours of super 8 film depicting life in Saigon. That rare footage will be used in GHOST MONEY, along with his own brand of brush-drawn animation, to tell the story of Johnson's war years, and to contrast with scenes of modern Vietnam. To search for Candy, Johnson visited many of the "haunts" from his past and even appeared on a popular Vietnamese TV show that helps people reunite with lost loved ones.
Johnson's fundraising campaign will run for 30 days, and will be found here . More information and excerpts of GHOST MONEY are available at www.ghostmoneythefilm.com. Larry Johnson is available for interviews and can provide footage from his film for broadcast.
###
GHOST MONEY
A feature length documentary film about how a veteran's trip to Saigon to find the
woman he loved during the Vietnam War becomes a journey into the continuing
aftermath of that war, and into the lives of Amerasian children who are still
haunted by it.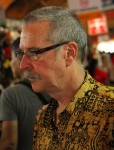 Filmmaker's Statement
Like many Vietnam veterans, my life was forever changed by my experiences during the war. In 2012, I traveled back to Saigon as a filmmaker to find out what had happened to the places and the people I had left behind but never
forgotten. My search for Candy, the Vietnamese woman I had loved, led me to the surprising revelation that I may have fathered a child with her.
But this wasn't the only shock in store for me. Forty years later, I learned that the war still haunts that nation. In the fields and towns our soldiers drenched with Agent Orange, babies are still being born with birth defects. Unexploded ordnance still kills dozens per year. And thousands of Amerasian children born of relationships like mine and Candy's are living lives shadowed by abandonment and persecution.
My pursuit of just one woman and one child ends up taking me through the streets, bars, hospitals, and homes of modern Vietnam, and into the American communities of Vietnamese refugees torn from their homeland during the war. And as weeks of searching have turned into months, I am now keenly aware that for Amerasian children who want to reunite with their aging fathers, time is running out.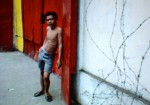 GHOST MONEY will tell the story of my war years through narration and neverbefore-seen super 8 footage I shot in Saigon in the 1970s. As part of the special forces that arranged entertainment for the troops, I bunked in a barracks in
Saigon but spent most of my time in cafes and streets of the city, documenting everything I saw, both beautiful and horrifying.
GHOST MONEY will also tell the story of how I fell in love with Lien, aka "Candy," who was captivating, somewhat unstable, and like many Vietnamese, believed she was possessed by a ghost. I will bring this turbulent love story to life through brush-drawn animation based on the many drawings I did during the time we were together.
Above all, GHOST MONEY will tell the story of the scars war leaves behind: Women still living with the fact that they were systematically "sold" to meet the needs of American GIs. Children who have grown up as outsiders because of
fathers they have never met. Families torn apart by loss and relocation. My hope is that my story will inspire other veterans like me to reconnect with their past and help to heal some of these wounds.
Bio
Lawrence Johnson has been making films and videos professionally since 1983. His work in history and culture has been distinguished through many awards, including two from the American Association of State and Local History (Remembering Uniontown, 1985 and Steam Whistle Logging, 1987). His programs for the exhibition Sacred Encounters: Father DeSmet and the Indians of the Rocky Mountain West received the Golden Muse Award, the American Association of Museum's recognition for the best Audio/Visual program in 1995. For the last ten years he has written and produced several programs about Native Americans and produced audio/visual programming for major museums across the country. He has recently completed programming for the Buffalo Bill Museum in Cody, Wyoming, and the Oregon Historical Society's exhibit Oregon, My Oregon. As a teacher, he has produced several half-hour programs in high school residencies, including the award-winning educational sci-fi fantasy Alien Invaders. His documentary Hand Game (2000) opened the American Indian Film Festival, and played the Smithsonian's Native American Film and Video Festival and the Montreal Native film Festival in June, 2001. His film three possible scenes won best dramatic short at the 2004 River Run International Film Festival in Salem, North Carolina, and Honorable Mention in the experimental category of the Kansas City Jubilee. Video installations by Johnson have appeared in several galleries in the Portland area. Notably, Abandoned in Place as part of the Art Contemplates History series produced by The Willamette Falls Heritage Foundation. Johnson recently completed an Art-In-Schools video
installation/performance funded by RACC at Beaverton Arts and Communications Magnet Academy. He just completed a personal feature-length documentary called Stuff, about his father's death and all the stuff he left behind. It received the Oregon Media Arts Fellowship in 2008, previewed at the Northwest Film and Video Festival and won a special jury prize at the 2011 Florida Film Festival and Best Documentary at the Talking Pictures Festival. In
2012, Johnson received the prestigious Fellowship Award in Media Arts from the Regional Arts and Culture Council, honoring artists in the Portland metropolitan area who are the strongest representatives of the range and diversity of art in the Northwest. Currently he is director of animation on My American Waistline, a web series and working on his next personal documentary feature, Ghost Money, about his girlfriend in Vietnam 1972.
GHOST MONEY
Release date: 2015.
Find us on Facebook
GHOSY MONEY website
Visit the photo gallery
Indiegogo Funding Campaign
STUFF