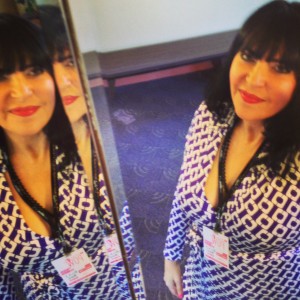 Alicia J. Rose, Portland, Oregon-based video and commercial director and accomplished photographer, has signed on to direct her first feature film, MY SUMMER AS A GOTH.
Rose, a prolific music video writer/director, has worked with Bob Mould, Cake, Laura Gibson, Talkdemonic, Menomena, Ages and Ages, Holcombe Waller, The Builders And The Butchers, Viva Voce, Loch Lomond and others. Her video for Corin Tucker's "Neskowin" was recently featured among other select women-directed short films at the opening night of the 2013 Portland Oregon Women's Film Festival (or, POWFest).
Rose's photography has been featured in Rolling Stone, XLR8R, V, Elle, Spin, Filter, Fader, Portland Monthly, NY Times, Wall Street Journal, and Sunset. Her controversial "Beast" photo, of a woman and deceased pig, was honored with a 2008 PDN Photo Annual Award and a spread in Elle Magazine.
MY SUMMER AS A GOTH, written by Brandon L. Roberts, has been optioned by producer Tara Johnson-Medinger of Portland-based Sour Apple Productions. Roberts and Johnson-Medinger are co-producing the dark teen comedy about a 16 year-old girl, Joey, who is sent to live with her grandparents for the summer and finds herself in love with (and transformed by) the neighborhood Goth boy.
Says Johnson-Medinger of her choice of Rose for director: "Alicia's work plays on a rich palette, a keen eye for composition and a natural proclivity for both capturing and creating compelling images and scenes…plus she has a wicked sense of humor that is perfect for My Summer as a Goth."
In 2011, Johnson-Medinger and Roberts successfully raised $23,000 in pre-production funds through social fundraising site Kickstarter.com. Since then, they have been looking for a director who shared their enthusiasm and vision for a smart teen comedy that pays homage to the popular films of their adolescent years. After reviewing dozens of director reels and submissions over the past 3 years, the pair felt Rose shared their vision—and love of John Hughes.
"My Summer as a Goth is part John Hughes, part My Fair Lady, with a Gothic twist. Filmgoers who grew up in the '80s will recognize themselves in many of these characters, and younger audiences will relate to the timeless themes of adolescent longing and otherness," says Roberts.
"Besides, it's just really amusing to see kids in full Goth walking down Main Street in the middle of a hot summer day, mascara running, sweating through layers of clingy black fabric. You've really got to admire their commitment."
Rose is excited to begin pre-production on the film, especially casting the young leads.
"I am truly thrilled to be the newest member of Team Goth. I fell in love with the story on first read and am excited to work with Brandon and Tara to create a hilarious and beautiful film that speaks to the inner Goth in all of us. I grew up on a steady diet of Amy Heckerling and John Hughes and can't wait to incorporate my love of the angsty teen drama into this project!"
Filming is expected to begin in and around the Portland area in August 2013.
For more information about the film, please visit www.mysummerasagoth.com. To learn more about director Alicia J. Rose, go to: http://aliciajrosephotography.com/