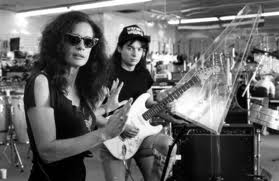 The Portland Oregon Women's Film Festival (POWFest) organizers are excited to host acclaimed director, Penelope Spheeris, (Decline of Western Civilization I-III, Wayne's World, Suburbia) as this year's guest of honor, with a Director's conversation following the screening of three of her films: DUDES, SUBURBIA and DECLINE OF WESTERN CIVILIZATION III during POWFest on Saturday, March 9th at 2pm and 7pm .
Each year, POWFest pays tribute to a key woman in the filmmaking industry who has helped pave the way for those just getting their start.  Previous years' honorees include 2010 Academy Award winner for Best Director, Kathryn Bigelow; Academy Award Nominee for Best Short Documentary, Irene Taylor Brodsky; one of our generation's most cutting-edge, determined and prolific directors, Allison Anders; Australia-born cinematographer, Gillian Armstrong; and  internationally acclaimed director, Amy Heckerling.
Often referred to as a Rock 'n Roll anthropologist, Spheeris worked as a film editor and cinematographer before forming her own company in 1974.  ROCK 'N REEL was the first Los Angeles production company specializing in music videos. She produced, directed, and edited videos for major bands through the Seventies and Eighties, concluding her music video work with the Grammy nominated, "Bohemian Rhapsody" video for WAYNE'S WORLD.
She has enjoyed two distinct careers in film – one where she does mainstream Hollywood films such as WAYNE'S WORLD, and the other where she does independent music themed documentaries such as the DECLINE OF WESTERN CIVILIZATION films.
A student of both psychobiology and film, Spheeris has said, "I think about myself as someone who studies human behavior and is trying to figure out what the hell is going on in our current society. If I can leave any film that helps define a certain time after I'm dead then that's great."
Traveling to Portland to support women filmmakers, film enthusiasts and the public at large are encouraged to attend this unique opportunity to hear from Spheeris about her filmmaking experiences firsthand.   The screenings of her films begin at 2 p.m., followed by a public Q & A after the screenings, moderated by film historian, David Walker. The event will take place at Portland's historic Hollywood Theatre located at 4122 NE Sandy Blvd. Tickets for the event are $7 and $10 and can be obtained at www.powfest.com, as well as The Hollywood Theatre box office.
Sponsors for the evening include SAGIndie.
DUDES (2 p.m.) – Starring Flea, Lee Ving, John Cryer and Daniel Roebuck. Alienated punk kids who discover a sense of values while setting straight the death of a friend.
SUBURBIA (7 p.m.) – Spheeris' first narrative film from 1983. A disturbing and somewhat prophetic story of rebellious, homeless kids squatting in abandoned houses, trying to make new families, and protecting one another.
DECLINE OF WESTERN CIVILIZATION III (9 p.m.) – The third installment of her Decline of Western Civilization films that received unanimous critical praise.  Eerily mirroring the events she scripted in "SUBURBIA", DECLINE III was filmed in 1997 documenting the contemporary punk rock scene.  Most of the kids in it were not yet born when the first installment was filmed. Focused more on social issues rather than music, most of the subjects are crusty gutterpunks, proud products of a society truly in decline. Still, Spheeris maintains a tender attitude toward her young subjects, who honor, respect, and admire the culture that began before they were born
In addition to special screenings of Ms. Spheeris' work, there are close to 100 films from women filmmakers all over the world to see during the four-day event.  Selections includeHollywoodheavy hitters as well as newcomers, dynamic young filmmakers and outstanding local talent; focused on a wide variety of topics – Relationships, Mature Themes, Animation & Experimental, Mothers & Fathers, and Young Filmmakers.  Over 30 directors will be in attendance; encouraging dialogue directly with the filmmakers and well beyond the theater as well.
Tickets are available by film segment, or through the purchase of an all-access pass.  See as many films you want during the festival, save money and show your support with an all-access festival pass, which includes early seating and have access to our Opening Night Party at @Large Films. For a complete list of programming and schedule details, visit www.powfest.com.
Director's Screening of DUDES, SUBURBIA, DECLINE OF WESTERN CIVILATION III with Director Penelope Spheeris
Saturday, March 9, 2013
DUDES (2pm), SUBURBIA (7pm), DECLINE III (9pm)
The Hollywood Theatre
4122 NE Sandy Blvd
Portland, Oregon 97212
www.powfest.com
*    *   *
ABOUT POW FEST
The Portland Oregon Women's Film Festival (POWFest) empowers women to find their voice and share their stories through innovative and quality filmmaking by showcasing the work of today's top women directors at our annual festival and strengthening the community of women in film in Oregon year-round.  We honor the true pioneers in the industry while providing support and recognition for the next generation of leading women filmmakers.  In the past five years POWFest has hosted five prominent and very accomplished women directors: Allison Anders, Irene Taylor-Brodsky, Kathryn Bigelow, Gillian Armstrong, Amy Heckerling and Barbara Kopple.
Contact
Tara Johnson-Medinger
Executive Director, The Portland Oregon Women's Film Festival
503.267.1126
POWFest is produced by Sour Apple Productions in partnership with the Hollywood Theatre