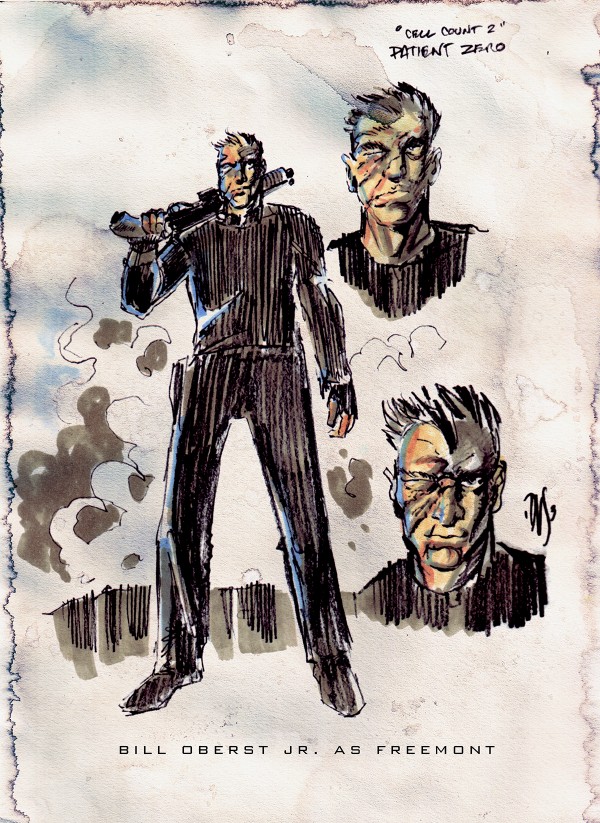 Bill Oberst Jr. joins the cast of the film Cell Count II: Blood Count
PORTLAND, Oregon (February 7th, 2013)  The feature film "Cell Count" went to film festivals all over the world in 2012 and is now available on all leading digital VOD stores including iTunes.  It is now the Freeman Brothers' profound pleasure to announce that horror icon Bill Oberst Jr. will be coming onboard for the upcoming sequel entitled "Cell Count II:  Blood Count."
"Blood Count" starts where the first film left off and takes our survivors on a high speed journey filled with monsters and fugitives.  It is a bloody high octane  counterpart to the slow burning original film "Cell Count."
"Bill will be playing the part of Ernest Freemont, the leader of the remaining humans in the quarantined land. His intentions seem sincere but are then put in question once we find out his relationship with Dr. Keller as well as how his unique side effects reveal themselves in unexpected ways."
""I first saw Bill in Aaron Moorehead and Justin Benson's amazing film "Resolution."  Since then I've gone back and looked at some of his previous work.  I'm most excited by the fact that he seems to be our idea of the perfect character actor, so more than just another horror actor.  Able to show kindness as well as freakishly intense madness almost as if he could only ever exist on a movie screen.  To say this fits the character of Freemont would be the understatement of the century.  He is badass on a very old school film noir level and that's what we need… and are excited about," says writer and Director Todd E. Freeman.
Bill Oberst Jr. says, "CELL COUNT hit a nerve with me because I find it's underlying premise to be a universal (if infrequently acknowledged) truth: our bodies are not always our friends. The thought of the very shell we labor within turning against us is the stuff of night-sweats and terrors. I thought Freeman captured it better than anyone since Cronenberg, and I remember thinking 'I wonder if there will be a sequel?' To learn that (a) there will and (b) that Freeman wants me to be in it, fills me with delight and no little sense of wonder. I love the genre of horrific cinema with all my heart and I think Todd Freeman is a big part of it's future. As an actor, I am ecstatic to be attached to CELL COUNT II. As a fan, I can't wait to see it."
Oberst is quickly making a name for himself in the horror genre. With his distinct look, scary presence, and most importantly, his love for the genre, he's someone who will one day be spoken about in the same breath as Chaney, Karloff, Lugosi, Englund and other great cinema legends of horror.
Oberst is on the cusp of greatness, having appeared in dozens of independent films, usually as the head baddie, and many television shows as well, namely True Blood and 1000 Ways to Die. At one point he was being looked at as the next Freddy Krueger for the Nightmare on Elm Street remake.
The Freeman Brothers are also working on a Special Edition of the movie for DVD and Blu-ray, including behind the scenes videos and audio commentaries, to be released later in the year.
Find out more and stay up to date with Cell Count at:  www.cellcount-themovie.com
Watch Cell Count On Demand via iTunes, VUDU, Amazon Instant Video, YouTube, CinemaNow, XBOX and Playstation 3 in HD:  http://cellcount-themovie.com/Watch
Stay tuned to the Cell Count II: Blood Count website for all news regarding the film at:  www.cellcount2.com