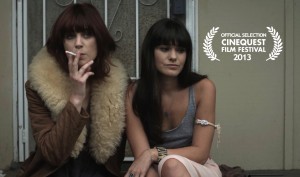 Portland filmmakers David F. Morgan and Cora Benesh are excited to announce the premiere of their movie CITY BABY next month at the 23rd CINEQUEST film festival in San Jose.
CITY BABY is a Portland-centric coming-of-age story about a group of meandering 20-somethings trying to find meaning in the new world of adulthood. CITY BABY features live performances by Glass Candy and  STARF*CKR, a soundtrack of local Portland bands including The Chromatics and The Helio Sequence,  as well as a cameo from musical frontman Stephen Malkmus (Pavement).
An updated REALITY BITES for the Me Generation, CITY BABY ruminates on themes of love, class, and contemporary youth subculture. CITY BABY follows Cloey, played by Benesh (PORTLANDIA, RID OF ME), who is reluctantly plucked from her party-girl lifestyle and forced to deal with her real life. Pressure from her dad (Daniel Baldwin) to find a job, her best friend Paige's (Jillian Leigh – A BIG FAT LOVE STORY) new relationship driving a wedge between them, and a balancing act of two romances with an aging rocker (local sketch comedian Andrew Harris – SWEAT, LEVERAGE) and a yuppie ad agency guy (LA-based television actor Richard Keith – NAVY NCIS, VERONICA MARS, GREYS  ANATOMY) all weigh heavy on her young heart.
CITY BABY is the debut film for Morgan and Benesh.
"We are thrilled to be kicking off our festival run at Cinequest!" says Benesh. "We are also excited to have many cast and crew with us at the festival."
Cinequest will begin CITY BABY'S festival run and the producers hope to premiere the film in Portland in summer 2013.
****
ABOUT CINEQUEST
Taking place at the heart of downtown San Jose CA the annual Cinequest Film Festival (CQFF) remains one of the last big festival bastions for the discovery of new and emerging film artists. Cinequest provides a dynamic 13 day event with 200+ international films, 600+ film artists in attendance and an overall attendance of about 100,000 people. Exhibiting unique artistic and social visions from around the world, Cinequest's film festival engages audiences in thought-provoking dialogue, giving film artists and film lovers alike an opportunity to connect.