In Oregon we are blessed to have people who know how to tell stories.  Storytelling has always been a part of Oregon's DNA.  We have great novelists, great song-writers, and great filmmakers.  We also have great innovative storytellers.  One such group of innovative storytellers is Second Story Interactive Studios.  Founded in 1994 by Julie Beeler and Brad Johnson, Second Story is thought of as one of the leaders in the interactive industry, collecting over 400 awards and accolades.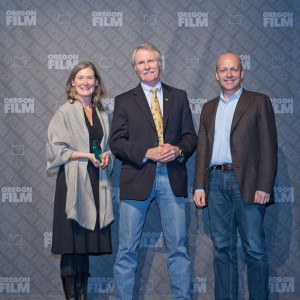 This year we are presenting our Innovation in Media Arts Award to Second Story Interactive Studios for their constant advancement in the art of interactive storytelling.
Over the years Second Story has produced amazing projects for major corporations like Nike and Coca-Cola as well as institutions like the Smithsonian, the Harvard Graduate School of Design, MoMA, the Portland Art Museum and National Geographic.  Second Story takes a unique approach to storytelling for each project, constantly upping their game by combining cutting-edge technology with unique creativity.
This year Second Story completed a two-year project encompassing a series of interactive installations at the newly opened Emerging Issues Commons at the Institute for Emerging Issues in North Carolina.  Located in the James B. Hunt Jr. Library on NC State University's Centennial Campus, the Commons is already being touted as one of the most innovative and collaborative spaces in the country.
If you want to see some of Second Story's work in action, be sure to visit the University of Oregon Ford Alumni Center's amazing Interpretive Center which won a number of design and interactive awards.
Congratulations to the entire team at Second Story and we can't wait to see what you dream up next.