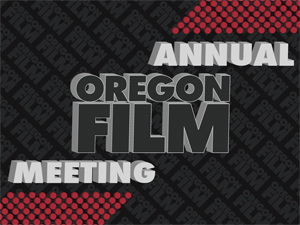 We're getting lots of interest in the annual meeting and for good reason!  It's going to be a great night!  You're going to want to get there early.  Doors to the theater open at 5:30PM and as you are entering the theater, be sure to check out the awesome installation from Second Story Interactive Studios.  Second Story is this year's recipient of our "Innovation In Media Arts Award" so we're thrilled to have them show off their work.
Even newer news?  "Portlandia's" Carrie Brownstein is scheduled to attend the meeting and show a new clip from season 3!
Interested in going somewhere after?  Click on this link to get info about the mixer.
See the previous event information below.
On January 15, 2013 at 6:00PM please join us either in person at Portland State University's Lincoln Hall or via teleconference in selected sites throughout the state for our Annual Meeting.  Governor John Kitzhaber will be in attendance and will provide some thoughts on the future of Oregon's Film, Television, and Digital Media industry.  As is the case every year several awards will be presented and a few surprises are already planned.
We always have a great turnout to the Annual Meeting, and this year we need all of you to turn out and demonstrate just exactly what this industry has become here in Oregon.  I can attest to what kind of affect you all have when you show up in force!  At last year's meeting, Governor Kitzhaber was genuinely moved by your enthusiasm as were many of the elected officials who attended.  As the Governor and the entire legislature readies for another meaningful legislative session, let's be sure to show up with energy and gratitude for all the support that Oregon's film and TV has received of late.
Here are the details so far:
Governor's Office of Film and Television Annual Meeting
Lincoln Hall – Portland State University
January 15, 2013 6:00PM (doors open at 5:30PM)

Remote Locations via Teleconference

Ashland – Southern Oregon University

Eugene – University of Oregon Knight Library Studio A
La Grande – Eastern Oregon University

If you can not attend in person or at the Ashland, Eugene, or La Grande teleconference sites but would like to listen in, please let us know.  We will work to find other locations that might work as a teleconference site or look into other ways for you to listen in.  Many thanks to Dean Barbara Sestak and Portland State's school of Fine and Performing Arts for making Lincoln Hall available.  It's a beautiful venue and we're thrilled to be holding the meeting there again.