Last week I attended the Go Green Portland conference with such speakers as Cylvia Hayes, the founder and CEO of 3EStrategies, (a clean economy consulting firm) and partner of Gov. John Kitzhaber; Duncan Wyse, president of the Oregon Business Council; Carol Sanford, author of "The Responsible Business" and Nick Barham of Weiden and Kennedy.   It seemed that they had a common theme; many valuable and interesting businesses are blossoming here in the Pacific Northwest and much useful work is underway but there is much yet be done.  The Go Green conference "builds viable networks and cross-pollinates sustainability best practices throughout the regional business community".
So, how does any of that apply to the film and TV industry?  The fact is we all know that film and TV is generally pretty wasteful in it's operations, especially around energy use;  large crews, equipment trucks full of grip and lighting items, wardrobe, hair and makeup trailers, honeywagons, catering trucks – they all need to be moved from sound stage to location and back again and a lot of fuel and energy is used in this process.   At last year's conference I met Tatianna Pavich, Managing Director at Solamor (specializing in on-site renewable power solutions) and was impressed with the way they have created clean power with portable generators that use solar, wind and biofuel combined.   Seeing a potential use for the film and TV industry, we were able to connect them to  Transport Department professionals that advised how a Solamor component could be specifically designed to potentially be a useful addition to energy on a location set.   A year on and Solamor has their new,  "WhisperWing" – with the capability of a total combined output of 30KW, 350 AMPS.
There are many other great green ways the Oregon film and TV industry is walking the green talk and addressing the other big questions that come with production; such as waste reduction and recycling, as well as energy use.  Here are a few examples:
Gearhead Grip & Electric, (equipment rental house in Portland) has new recycling centers on their production trucks that have been well received by customers.  They are working on adding composting services to their Production Cubes.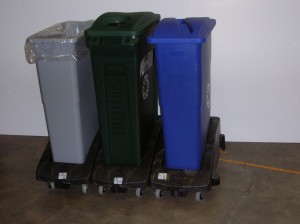 Picture This (equipment rental house in Portland) report they are starting to see a rise in the demand for LED lighting fixtures.  Ben Oldberg, Production Manager at Picture This, reports, "Brands like Litepanels have become a reliable source for LED lights that can be used for film and video production.  They use less power and last much longer than traditional lighting fixtures, so there is less waste all around.  We are starting to incorporate more of these into our lighting inventory."
In addition to being a busy Location Manager, Robert Warberg, recently began renting out a small fleet of 4,3 & 2 unit solar toilet trailers by NuConcepts.   "They have flushing toilets, real sinks and lights all powered by solar energy".
Rachel Lipsey at Old School Craft, (a craft service company), makes composting and recycling on set a standard.
Many of the generators used on sets can and do use biodiesel.  SeQuential Biofuels have been constantly adding their products at pumps all over Oregon as demand increases.  Did you know that if your production is big enough SeQuential can set up a fuel tank for you at a location that is convenient to production?
These are just a very few examples of the green practices and innovative actions that are taking place with industry vendors and services  in Oregon.  For our part, we are currently looking at ways to help solve the left-over-recycling-on-location-problem and additionally,  brainstorming ways to bring renewable energy to remote location sets.
-Jane
If you want to know where to charge your EV, fill up with biodiesel, find a place to recycle set materials, where to donate used wardrobe items and other materials, or who does sustainable catering and a whole host of other useful green production resources, go to our green page.