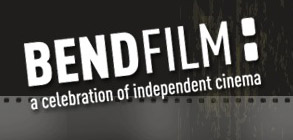 The BendFilm Festival will be taking place October 11-14, 2012 in Bend, Oregon.  Tickets for the festival are now available online.
Orit Schwartz, Festival Director, said,
"We're selling tickets earlier than ever this year and anticipate a great response from members and the general public. Buzz has been building about our films and parties, including the resurgence of a dance party, which will be held at our newest venue, the Cascade Theatrical Company, on Friday night of the festival featuring DJ Bryan Swett."
BendFilm is once again use Agile Ticketing, which streamlined the ticket buying process in 2011. Each film is listed with a trailer and large photo outtake along with details such as cast and crew, screenwriter, director, film length and category.
Individual ticket prices are $11 if purchased online, and $12 if purchased at The Hub (The Liberty Theater) or at the door. Full festival passes, including parties and films, are $200. Full film passes are $125. Both are available for purchase online and at The Hub.
Those who want the inside scoop on the festival's films should attend How to BendFilm, 5:30 pm Wednesday, October 3 at Mirror Pond Plaza. The festival guide will be in general distribution as of October 4. For previews of movies, follow BendFilm on Facebook.
BendFilm is a non-profit group inspired by the opportunity to open doors for artists and to cast Bend, Oregon as the cultural and economic beneficiary. The BendFilm Festival runs every October in downtown Bend, Oregon at the historic Tower Theatre, McMenamins, Regal Cinemas, The Oxford Hotel and new this year the Cascades Theatrical Company and Tin Pan Theater. Plan now to attend October 11-14, 2012 for a long weekend of films, lectures and parties as filmmakers compete for cash awards in Bend's charismatic setting of mountains, rivers and screaming blue skies. Follow us on Facebook.
BendFilm Info:
Address: 2748 NW Crossing Drive, Bend, OR 97701.

For questions or more information: call 541.388.FEST,
email [email protected] or visit www.bendfilm.org.