DIVA's Youth Visions' program announced the 2012 Teen Video Challenge Competition winners with a screening and awards ceremony on Saturday, April 14th at the Bijou Theater in Eugene.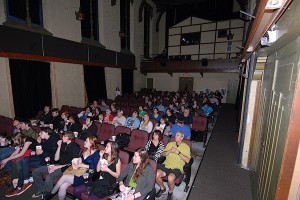 The festival's Jury was please to recognize two first place winning videos this year. Festival Director Steve Newcomb made the awards before a packed theater.
South Eugene High School student Jordyn Roach won a $200 Jury First Place award for her claymation film Jovial Giraffes – a short video in which inanimate objects spring to life from a young boy's sketchpad. Jordyn also won a $50 Audience Choice award.
Adrian Tujillo also won a $200 Jury First place award for his video The Trumpet Player – a story about a young street musician who has a very special talent. Adrian is a student in Springfield's Academy of Arts and Academics.
University of Oregon Cinema Studies major Samantha Stendal won the $100 Jury Third Place award for her film Diseased in which, after, an alarm rings, Ryan's race for survival begins with the diseased close at his heels.
Eric Talbert, MOPAN President, also gave jury First Place winners a 2012 Membership award in the Mid-Oregon Production Arts Network (MOPAN) organization. MOPAN is a regional association of professional video producers and media artists.
Each year Lane County teens ages 13-19 submit work that is reviewed by a panel of video professionals and educators. This year 16 videos representing a wide range of film themes were screened that included animation, documentary, music video, and narrative film categories.
The Teen Video Challenge, established in 2003 and merged with DIVA in 2008, is the Youth Visions' segment of the Center's annual OpenLens Festival. It is funded, in part, by grants from the Oregon Media Production Association and the Lane Arts Council and is dedicated to celebrating the work of young filmmakers throughout the county.