The NW Animation Festival is proud to bring you a special encore presentation of Portland Animation Now!—this weekend at the Cinema Pacific film festival in Eugene, Oregon.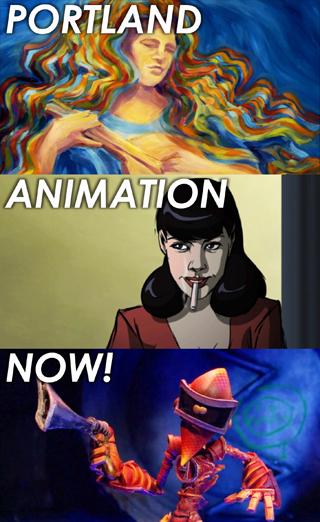 Portland Animation Now!
short films from 20+ Portland animators
Date: April 20 @ 7pm
Runtime: 95min
Venue: Bijou Art Cinemas
Address: 492 East 13th Ave, Eugene, OR 97401
Tickets: $8 general public, $6 students/seniors
CLICK HERE to buy advance tickets
Amazing short films from Portland's powerhouse animation scene! Highlights include…
Kubla Khan by Oscar-winner Joan Gratz: An interpretation of Samuel Taylor Coleridge's famous opium-inspired poem—claypainted by the animator in a drug-free state.Ursula 1000 – Rocket by Eric Kilkenny: A love story told as a fever dream involving stolen works of art, dualistic robot terminators, and a giant floating head who seriously needs his moustache trimmed. Ruby Rocket, Private Detective by Sam Niemann & Stacey Hallal: It had been a long night and Ruby Rocket, Private Detective needed a stiff one—then HE walked in. Missionary by Mike A. Smith: Geopolitical allegory as cartoon slapstick, featuring eggs and fearsome hand-on-stick technology. Old-Time Film by Barbara Tetenbaum & Marilyn Zornado: Handset type, printer's ornaments and antique engraving come to life in the first film created entirely through letterpress printing. Operation: Fish by Jeff Riley: After a series of goldfish abductions, a secret agent is dispatched to bring the fishnappers to justice, and possibly save the world!