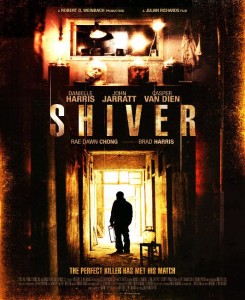 SHIVER, produced by Bandersnatch FilmCo in association with Cyclone Productions, Inc. on location in Portland, Or will have its South America Premiere at the 2012 Fantaspoa International Film Festival in Porto Alegre, Brasil.
Producer and screenplay author, Robert D. Weinbach and Portland Co-Producer,  
A.J. Gordon, produced  SHIVER under the Oregon Film Incentive program.
CELL COUNT, another Portland production, produced under the state incentive program has also been selected as the closing night film of the Fantaspoa Film Fest.
SHIVER was recently presented at the Fantasporto Film Festival in Oporto, Portugal where it was very well received.SHIVER will also be presented as a "Special Event Preview Premiere" by the prestigious Buio Omega Film Society in Gelsenkirchen, Germany on April 21, 2012  at the historic "Schauburg Filmpalast".
SHIVER is an exciting, action packed, suspense, thriller based on the highly praised novel by acclaimed author, Brian Harper. There are currently over one million copies of Brian Harper novels in circulation worldwide. Penguin-Signet originally published the SHIVER novel. A republishing of the novel as a film tie-in is planned concurrent with the release of the film.
Directed by multi film festival award winner, Julian Richards, the principal cast is toplined by Danielle Harris starring as Wendy Alden, who announced SHIVER at Comic Con where she hosted the major reception for promotion of her film, Hatchet 2, and at Fright Fest  in  London.  Her film "Stakeland" won top honors at Toronto's Midnight Madness in 2010  where she also promoted SHIVER. John Jarratt who Quentin Tarantino characterizes as "the best Australian actor" is starring as Franklin Rood  and Casper Van Dien , renowned  for "Starship Troopers" and many other films and TV series plays Det. Sebastian Delgado. Cult favorite, Rae Dawn Chong is featured as Det. Mavis Burdine. Brad Harris, iconic star of many German and Italian films plays "The Captain and fan favorite actress, model, Nikita Esco plays Rood's "first victim". Emmy and Golden Globe winner, Valerie Harper guest stars as Danielle's mother in the film.

SHIVER has been selected for competition at the Fantaspoa Film Fest and will be screened twice. Producer and screenplay author, Robert Weinbach's cult classicc, THE FREAKMAKER will also be screened in the Fantaspoa, genre retrospective.