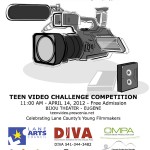 Saturday, April 14, 2012
Time: 11:00 AM
Admission: Free
Location:
Bijou Art Cinemas – 429 E. 13th Ave. Eugene
DIVAs Youth Visions program is pleased to host the 2012 Teen Video Challenge Competition with a screening of entries and winning videos. Each year teens from all over Lane County submit work that is reviewed by a panel of video professionals and educators. Winning videos will be awarded certificates and cash prizes at this years event. This year 16 videos representing a wide range of film themes will be screened and include animation, documentary, music video, and narrative film categories.